Hello!
How are you all?
Are you Black Friday 'discounted' out?
I am.
I absolutely, 100% L.O.V.E. a bargain – I mean, who doesn't?
But… I think I've mentioned previously about my frustrations with sales here in this No Sales Here blog post as well as last year's One and Only Black Friday Purchase.
The reality for me is this: I am a stay at home mum who does not earn an income of her own and simply doesn't have a stash of cash to bag a mass of black friday bargains with.
This is not a complaint by the way, it's just a fact.
And plus, because this blog post goes out on a Sunday – last Sunday was too soon to be blogging about discount codes and this Sunday feels a little late, right?
There are tonnes of blogposts out there listing the discounts, and in case you missed them, go check out: Emma Hill, Wears My Money or The Fashion Lift for 3 of the best, all of whom have listed codes as well as listing their picks from the sales.
Instead, today I thought I'd run through 7 small "indie" businesses, most of whom I have made a purchase from this year, or who I am planning to make a purchase from in the coming weeks.
It is, after all, Small Business Saturday next week and we all *know* this quote to be true:
This list of indie's is in no particular order, and some of them *do* have Black Friday discounts on – which cuts into their profits massively, but, what choice do they have against the tsunami of discounts so easily offered by my international corporate giants?
So, if you're after something a little different to the usual high street offerings, why not give one of these guys a go when you're Christmas shopping?
7. Wear Kindred – Ethically made organic cotton t-shirts and sweatshirts:
This Stag sweatshirt (£40) is a brilliant alternative to a traditional Christmas knit and could be worn throughout winter to be honest.
This Red Lips sweatshirt was the one I was sent back in March and blogged about in this "A random act of kindness" blogpost:
It's worth checking their website for other designs and colour ways as well as t-shirts… I bought this slouchy fit Coral Heart Tee in the summer and can vouch for the quality of the cotton and how beautifully it washes:
You can currently bag yourself 20% off full priced items using code BF2017.
6. Tipperley Hill – Artwork by two best friends, Roz and Abi. Quirky animals, skulls, and colourful art
Stuff I've bought:
This poster sized giclee print of Craig (re-named Eric by my boys) and…
… and Maxed were bought earlier this summer for my boys bedroom at a cost of £60 per print although… because I'd previously blogged about Tipperley Hill in a Birthday Wishlist post, they had contacted me and kindly offered me a 10% discount.
I still love Damon the Buffalo with this sad eyes and mardy looking Troy the Monkey, but in the run up to Christmas, it's the Personalise Your Print option as gifts which are calling loudest, how about this fella for any gin lovers out there?
Or this fabulous Pug (eyes) for your downstairs loo?
Just choose your print and a message can be personalised for you.
Tipperley Hill also have a lovely selection of landscapes, floral ladies (and just florals in fact) as well as custom pet portraits.
It's worth checking out their Instagram feed @tipperleyhill for their latest stuff.
5. Gina Potter – Hand Painted T-shirts, cushions and Art
I came across Gina Potter's t-shirts on Instagram recently via Terri (@thestylecoop) who was wearing this absolutely fabulous, hand-painted Iris Apfel t-shirt: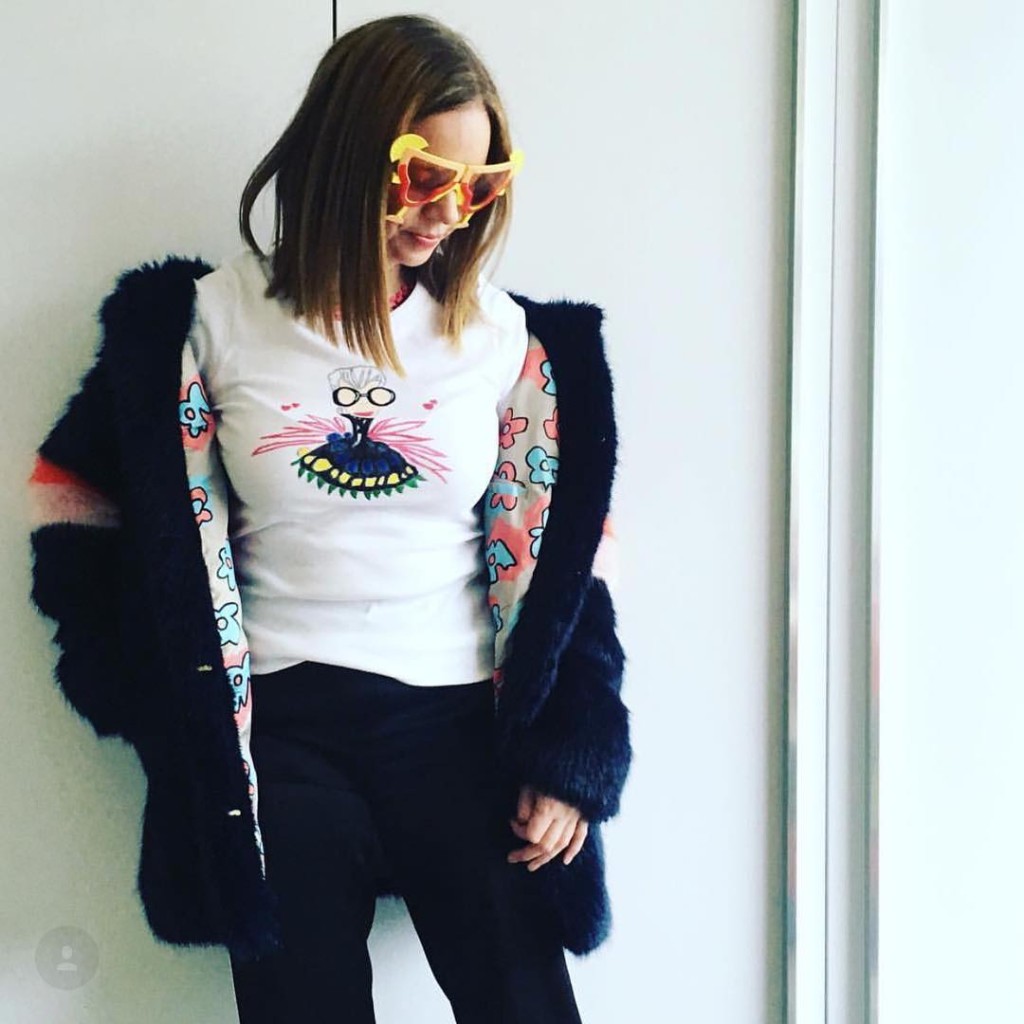 All of Gina's t-shirt designs can be customised to your tastes and are perfectly fine to go in the wash so you needn't worry about that!
Gina also takes orders for cushions, totes and prints:
How cool is this Adam Ant art work Gina painted recently for a client?
Gina recently put feelers out for brand reps on her Instagram to which of course I responded with a "would love to" – so watch this space!
In the meantime, drop her a line on her Instagram @ginagpotter if anything takes your fancy.
4. Becky Pearce Designs – Handmade Jewellery
Now this is a lady who hand makes the most pretty of rings, necklaces – all jewellery in fact – whom I've gotten to know quite well on Instagram over the past year… and although I've yet to make my purchase, these are some of the pieces I have my eye on:
This is one of Becky's birthstone stacking rings featuring the Silver Leaf Ring (£29) to which you can add other stacking rings with stones of your choice, whether you chose your families birthstones, or just go by your favourite stone colour… the choice is (almost) endless!
And frankly, that's been my issue: choosing colours!
But I have every intention of getting one of these little ring stacks – they are so, so pretty.
I'm also slightly in love with this Bar Pendant with Stone (from £45) but again, for a procrastinator like me, choosing the stone and bar length turns into a mini-drama!
Either way – a piece from Becky's designs is definitely on my Christmas wish list.
3. Disko Kids – Limited Edition screen printed t-shirts and sweatshirts for children and women:
As you all know, I'm tiny, so I got away with ordering one of the kids t-shirts for myself earlier in the year:
I'm wearing the Play Loud (in age 11!) which costs £15 but there are some fabulous ladies options such as this Roller Disco Sweatshirt (£35):
Also available in Navy and Pink and of course, it's available in kids sizes too if you fancy twinning with your mini?
There really are some fabulously cool designs to choose from and there is currently a BLACKFRIDAY20 discount code being offered… so how about bagging a cute little gift like this adorable little baby roller bodysuit (£9):
It's just too sweet!
I need a pregnant friend to buy this for!
2. Tin Design – an eclectic mix of homeware, lighting, cool wallpaper, wall art, eccentric furniture and local artisan pieces
I've recently bought a couple of prints from Trudy – and I'm getting desperately impatient to get them hung up (hurry up and finish renovations!):
So I know all schnauzer's look like boy dogs because of their beards, but… we have Sylvie, and she is very similar in colouring to this brilliant geometric schnauzer print (from £19.95) so our print is also, most definitely a "she!"; I also couldn't resist this print of the Rabbit Wrestler (from £19.95):
Now the kids always want to name everything and this Rabbit print was no exception… so meet Raoul!
As well as an absolutely brilliant selection of Art for Under £50, Tin Design also stock rugs, amazing furniture as well as home accessories, of which I currently have my eye on this Emperor Vase (£24)
And I adore these Kahlo Cushion (£40):
1. Violet and Thistle – individual homewares, lighting and one-off vintage pieces
So far this year, I've bought two lights from Jane:
Or did I buy this last summer?
I'm getting confused – either way, it was a birthday or father's day gift for my husband and he *has* actually hung it up (a small miracle in our home!) and he really does love it.
In fact, the light *has* to be on when he's mixing up a cocktail because otherwise, the cocktail won't taste quite right (apparently!)
More recently, I bought this Neon Hello Light (£54.99) with a view to hanging it in my downstairs cloakroom:
However, the husband had concerns about the fact that our cloakroom is teeny-tiny – like a very narrow broom cupboard in fact and so… he felt the light might get damaged… something I *had* anticipated… and so, we've hung the neon light in my boys new bedroom (something which I was angling for anyway – but shhhh, don't tell the husband that!):
Now hanging this light in the boys room has turned out to be the best thing EVER for all of us in our family: my youngest has sensory processing issues and although he is brilliant about getting into bed and staying there… it can take him hours to fall asleep.
So, an hour after he's been tucked in and read his story, his older brother gets into bed, but my youngest is still wide awake… and indeed, still wide awake long after his brother has fallen asleep.
We have tried various tips and tricks and night lights and the like and nothing has really helped… until this Neon Light got hung in the bedroom last week: my youngest (in his own words) has described the light as "hypnotising" and that it makes his eyes "sleepy".
This neon light has been a god send because if the youngest is well rested, his "bubble" is small and in turn he's less prone to other sensory issues and is altogether easier to be around for the rest of us.
Who knew?
Violet and Thistle also have some fabulous home accessories; I love this metal wire wall sign (£14.95):
This one is currently sold out – but sign up for stock updates… this Blush Pink Overdyed rug (£235) is also on my wish-list of my new bedroom, but I'm still working on persuading the husband into 'blush pink':
Do go and check the full web-shop out though – it's an absolute treasure trove with some stunning Christmas Deco's as well.
Violet and Thistle currently have 15% off using code BLACKFRIDAY.
Whilst I don't have my usual Stinker or Wildcard item to style up into looks for you this week, again, I'm offering up a couple of 'Beany Bonuses':
Bonus #1:
Kate Boeken (@art_fashion_life) – etsy shop ArtFashionLife is someone I've followed on instagram right from joining in March 2016.
Kate designs and sews the most exqusite one off fashion pieces, as well as taking made to measure orders:
If you know anything about sewing or just fabrics, you will know that this tweed top (£60) would have been an absolute nightmare to sew – but even from this photo alone, you can see the attention to detail and that you'd be getting an incredibly well crafted piece of clothing.
And as for this Maxi Skirt (£180):
It really is a work of art, isn't it?
And speaking of art…
Bonus #2:
New Icons of Print – the brain child of two of my insta-friends, who'd never met but share a mischievous sense of humour and got on so well, they set up a typography business together!
#truestory
From song lyrics prints:
this Chaka Khan Lyrics print is £21….
… to this somewhat pointed message (£14)!
Go take a look at their web shop or instagram @newiconsofprint for an absolute mass of fabulous typography prints!
Next Saturday is "Small Business Saturday": an annual shopping tradition dedicated to supporting those small, independent shopping heroes… the people who are battling against the tide of multi-nationals and big chains to make sure that we don't all become clones… that we have a choice to grab homewares, clothing and jewellery which is affordable and that little bit different.
This year various branches of my family have requested "joint" presents, mainly for their homes and I know exactly where I'll be shopping.
How about you?
Go show your support of the independents this week and especially next Saturday: #shopindependent and support #smallindiebusiness.
I'd love to hear if you've bought from the little guys out there recently? It's always nice to get new recommendations!
Just leave a comment & I'll get back to you.
Thanks for reading.
Bx