Hello! How are you all doing?  If you're approaching an end of school term like me, you're probably on your knees before the hols have even begun?
And Sales? Ugh! I do get a bit sick of them… I know there are some fabulous bargains to be had, but then there's the size availability frustrations etc and most stores currently resembling 1970s church hall jumble sales… I feel fatigued just looking at the mish-mashed rails with little energy to rifle through them…
Anyway, thought I'd get back to my default, true Sunday 7 theme this week… of fawning over New In stuff, though, as we're in-between seasons, there is just a small trickle of new things in to choose from:
7. Topshop – Madonna Star Studded Clutch Bag (£23)
So you've probably guessed from my number 1 last week (*those* glittery green HM trousers) that my dormant inner magpie has awoken… and I'm in the mood for some bling!
Two things I'm forever drawn too are stripes and stars… though probably not together!  And as I do love a white bag… so for £25, this one's pretty cool, wouldn't you say?  I'm not entirely certain why it's described as a clutch given it has a chain strap, but guessing it's because the strap is detachable.
The bag is also available in Pink, which has gold/copper hardware :
 On this occasion though, it's the white/silver which gets my vote!
6. Topshop – Stripe Paper Bag Shorts (£29)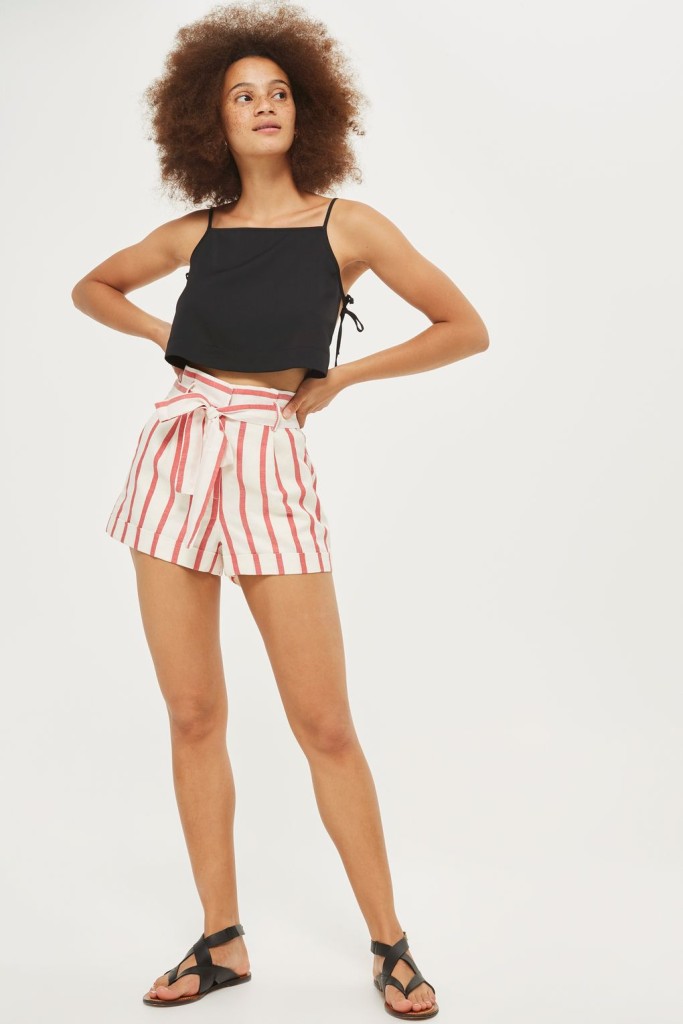 Staying with good old toppers – I'm eyeing these shorts up for my holiday.
I know HM has similar, possibly cheaper… but somehow, there's something about this pair of shorts that I like better.
Go figure?!
Oh and those sandals on the model? They'd be included in today's list had they been in brown/tan… but alas, they're only available in black at the mo.  £39, should you be interested.
5. Warehouse – Mini Mono Black Flippy Dress (£46)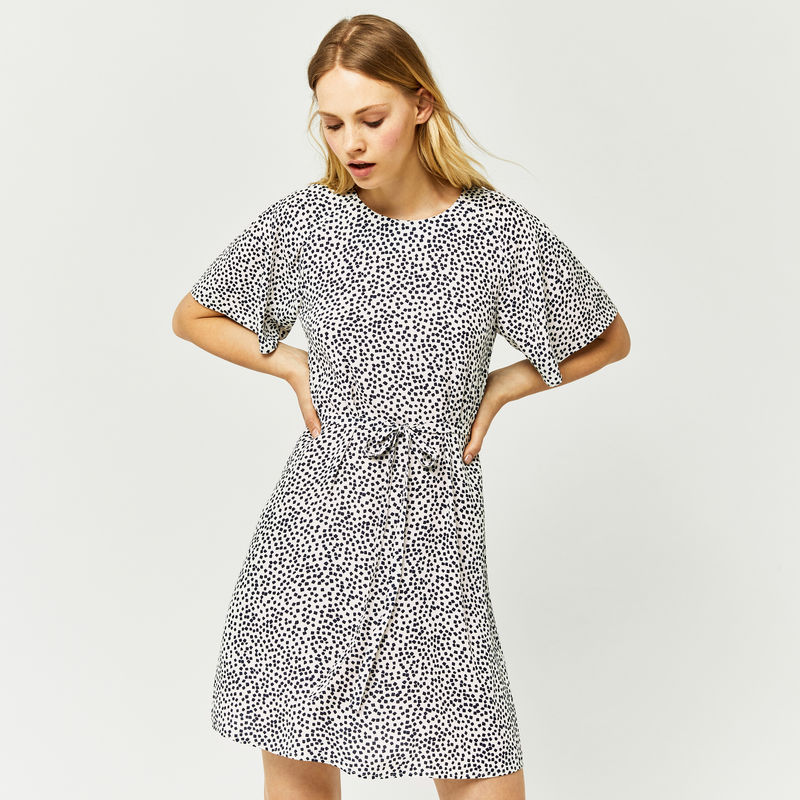 So that's a name and a half for a dress, eh?  And £46 is quite a random price too?
Either way, I quite like the look of this dress.
Years ago I overdid the polka dot thing and haven't quite been able to wear them since.  Though these aren't round dots….
However, this dress is a bit like one of those 3D pics that you had to cross your eyes at in order to see the picture hidden in the pattern – remember? They were popular with dentists – on the ceiling above the dentists chair for you to get a headache alongside jaw-lock from keeping your mouth open for an age during your check-up?!
Anyway… the dress!
The print slightly messes with my mind – could almost be animal print if you squint… but I like it.
I particularly like the back detailing:
Cute, right?
And from this close up you can see that the print is made up for square dots, not round.
So not polka dot at all!
4. Next – Leather Hardware Sandals (£35)
So whilst the Warehouse dress has a bit of a ridiculous name, Next are calling a spade a spade.
These Leather Hardware Sandals – also available in Navy…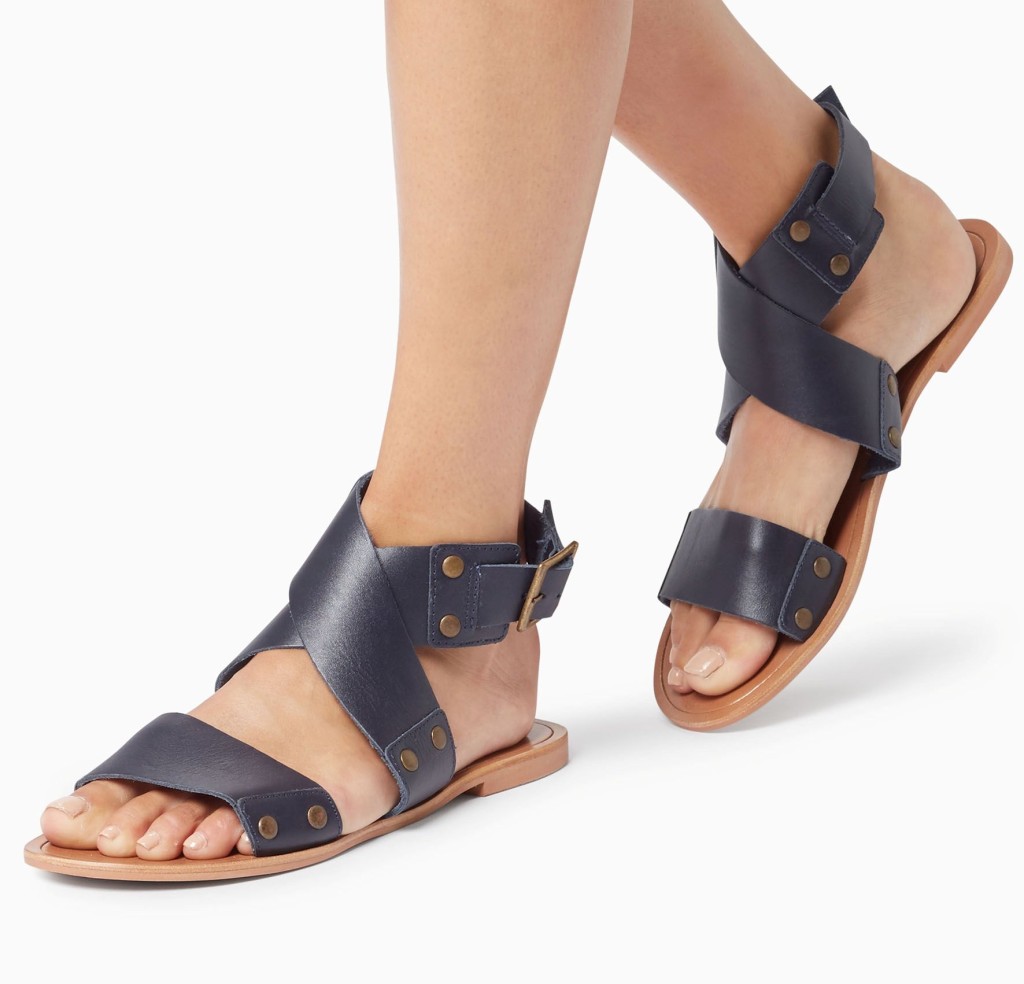 … are making me regret not waiting a little longer… I bought some Mango Studded sandals a while back… but now I want the Next sandals too.
In navy and pink!
Eek!!
3. & Other Stories – Straw Fedora Hat (£17)
I like this because of the red.
The very natural 'straw' coloured straw hats out there don't suit everyone's skin tone… and indeed the popular white panama hats are a bit much for others.
So I've included this hat because I'm digging that red.
(I did NOT just write that, did I? "Digging"? It's the sun… I've had too much sun. Always blame the weather for everything, right?!)
Considering purchasing it for my holiday – given my 5 year old has nicked my current straw hat.
And yeeeeeeesss, I do have the same size head as a 5 year old apparently: what can I tell you?  I'm a pea head!
Oh and the Other Stories hat is available in different sizes  because let's face it, one size never does fit all!!
2. Next – Black/Pink Ditsy Print Tea Dress (£42)
Cute ditsy print dress.
Nothing more.
Nothing less.
I wish the colour nearest the face was darker or it was in a reverse colourway (if that makes sense) because that paler green near my face wouldn't work.
But it's lovely a lovely dress.
1. & Other Stories – Amour Moderne Tee (£25)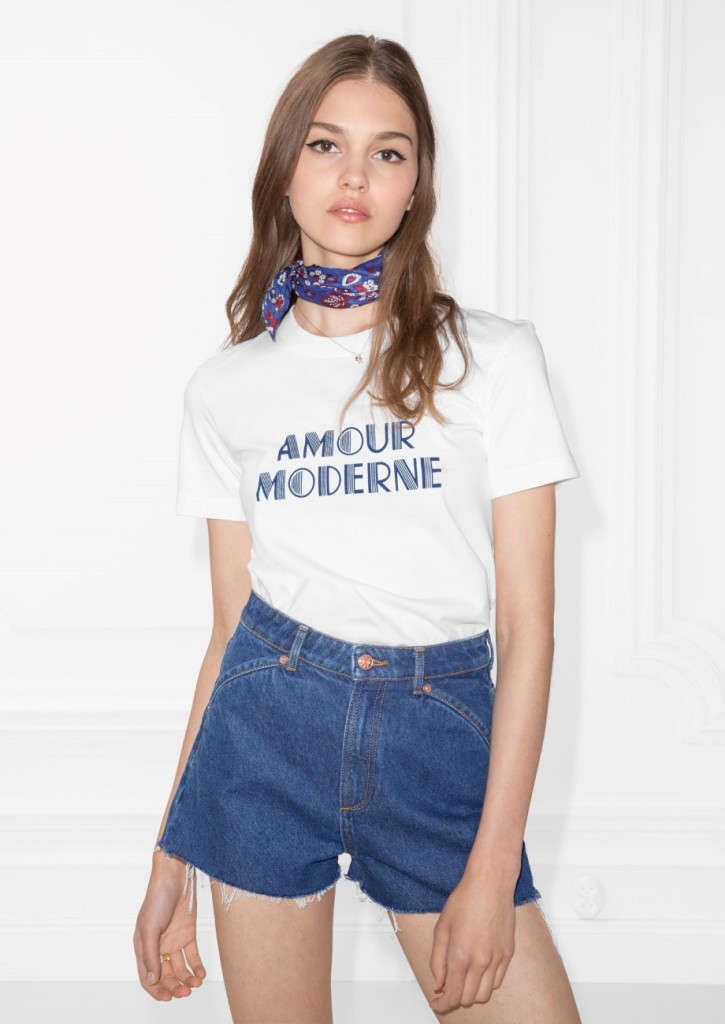 oh gawd!
Another slogan tee… I want.
Someone send some help: I'm addicted!!
LOVE, love, love this tee.
The art-deco-cinema-font… (if that's what it's even called?!), the blue and white…
Uh-oh. I feel a purchase coming on…
Oops!
Right… moving on, before I spend anymore money…
Stinker of the Week – HM Patterned Leggings (£17.99)
These are not for me: I just don't get them.
Patterned trousers I can understand, but not these.
And yeah, I'm punching below the belt… leggings are an easy target, I know… but whilst they might not be considered the "coolest" item of clothing out there, I still see women wearing them under skirts or dresses and these ladies look completely at ease in what they are wearing and as such… they look nice.
But patterned leggings? Best leave those to the kids.
Or fancy dress.
Soz. They get a thumbs down from me.
Wildcard of the Week – Mango Bow Knot Blouse (£29)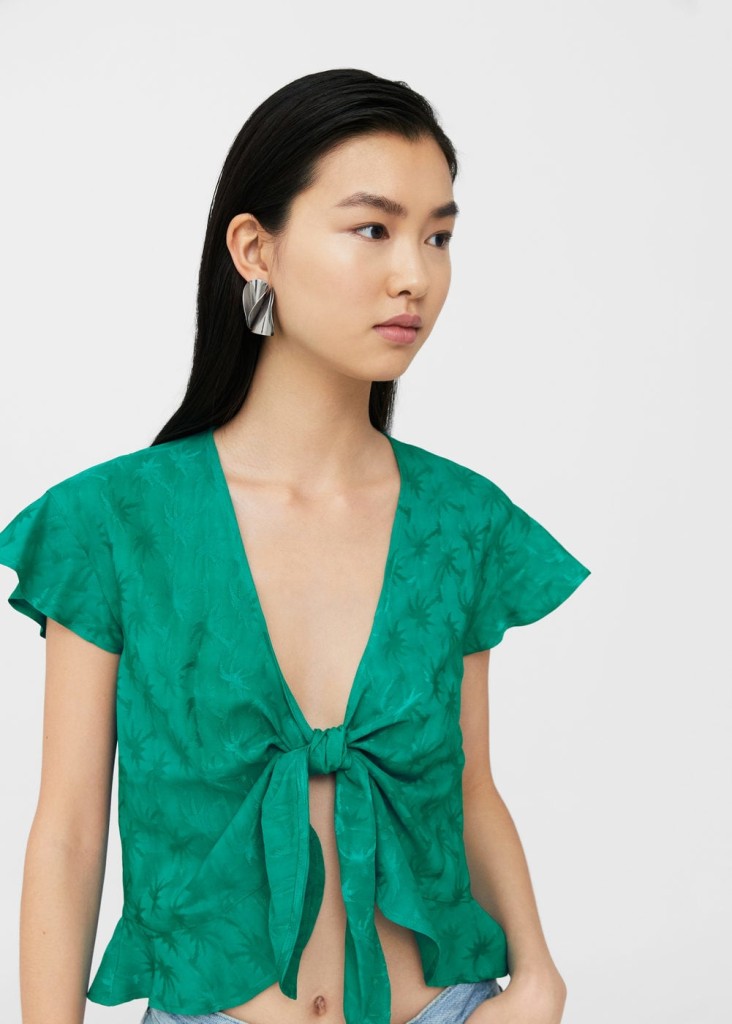 I hear ya… that in-take of breath was audible!
Now bear with on this, I haven't gone complete mad, I promise.
You all know I'm 46 and whilst my blog readers vary in age, I imagine most are in a similar age bracket to me with no real desire to show off their mid-riffs, right?
But of course, you don't have to show off your tum! Here's how:
Look 1 – If in doubt, Denim-it: So this top might seem 'young' and yes, it does remind me of little 'going out to the (student's) union' tops I wore many moons ago, but it would work equally well over a little vest top, like this HM Linen Jersey Vest Top Natural White (£9.99) which has the right shaped neckline to wear under the Mango Bow Knot Blouse; and both tops worn with some slouchy, low-slung, boyfriend jeans such as these HM Boyfriend Low ripped Jeans (£34.99) and finished off with a pair of these Next Gold Weave Mules (reduced to £17, in the "flats" shoe sales section) & an HM Gold Straw Clutch (£7.99 – sold out online but available in store).  I think this would be a lovely, understated little outfit for a *cas' get together / bbq kinda thing with friends.
Look 2 – It's a wrap: Wear the Mango Bow Knot Blouse as an extra little layer over a slip dress, similar to a little wrap (or were those things called shrugs?!) You could go pink, or white, but I'm going with the obvious choice of black because it's probably the kind of dress we all have in our wardrobes somewhere, and perhaps don't wear as much as we'd like to because of our arms?  (I used to be ok about them but recent pics of me in a strappy summer dress have made me feel totally "meh" about my arms!)  Anyway, something like this Mango Lace Appliqué Dress (reduced to £29.99 – most sizes still available).  I went for this dress, as the little bit of lace detailing around the neckline would look really pretty peeping out from under the Bow-Knot-Blouse. Some black HM Espadrilles (£19.99) and this  Zara Three Toned Braided Tote (reduced to £19.99) and a slick of red lippy and you're good to go!
Look 3 – Skirting around: So, if you have abs of steel and a stomach that you don't mind showing off, you could just wear this Mango top as it is on the model with a little black denim mini and some slides or mules… but alas, even on my extra-petite little frame, I still have a mum tum and frankly it's just not something I like to show off.  So you could stick to the same white vest as in look 1, go grey… or try and tone-in with the mango blouse with this HM Linen Jersey Vest Top in Mint Green (£9.99) and wear together with a dark skirt, like this navy M&S Cotton Striped A-Line Midi Skirt (£18, limited sizes left online).  You could go for the Next Leather Studded Sandals (£35 – number 4 above) in Navy with this little HM Shopper (£12.99).
So… have I sold the open fronted little blouse to you?
Or are you still not having any of it?!
I think I would probably wear the blouse, but *always* with a vest or tee under it!
So my Glittery HM Trousers (aka sparkly astro-turf trousers – as one of my lovely Insta Pals has said the trousers look like astro turf! Which to be fair, they do. But if Astro Turf was sparkly, I'd have y garden covered in it in a heartbeat! Anyway, I digress…) – have arrived!!
And… it's love.
But before I could post a review or any pics and blog about them, I've had to take them up of course.
#shortgirlproblems and all that shizzle.
I only managed to take one of the leg's up on Friday and as we've been away most of the weekend, the right leg has had to wait and will probably get finished on Monday.  I thought I'd road test the 3 looks I put up in last week's Sunday 7 to see whether they work in real life or not: what do you think?
Would love to hear your thoughts: leave a comment?
Thanks for reading
B x
PS *cas as in casual… I mean, I have no idea how you really shorten that? Would love to hear if you know!