Are you a culottes-crazy like me?
I am *in* love with them.
Bit OTT?
Well, the original idea behind culottes came about from skirts being split into two legs so that ladies wouldn't have to ride side saddle or some such.
Or in other words: they gave women a bit of equality and freedom if you like.
So, what's not to love?
Although I will state now for the record: I'm not mad-crazy on the 'split skirt' culotte, more 'gaucho' pant (if you will) variety.  These look fine from the front, but they're really not as fabulous from the rear view: from the back, they look rather like your skirt got stuck in your knickers or caught between your legs… #eek.   Apologies if this is your preferred culotte cut, it clearly just isn't for me!
No, no… my love of culottes is of the cropped wide sailor-esque pant variety.   If I was still working in an office, this is pretty much all I would wear.  I love that you have the feeling of wearing a skirt (bit of ankle/leg out, a tiny bit summery) but with the freedom & flexibility that come from wearing trousers.
You could still do a crazy long-leaped-dash for a bus or after a toddler, or indeed a puppy not trained in recall yet… and all without a skirt billowing and catching between your legs; you get to  crouch/squat/sit on the floor with the kids whilst retaining your dignity and not having to worry about exactly how you sit and what your dress/skirt is doing; and of course, depending on how you style them, they can be dressed up or down.
Perfect!
I'd had my eye on these lovely tie-waist Warehouse culottes for a while now.  Warehouse are definitely have a bit of a moment from what I can see, and have some amazing stuff in at the mo… but ever on a tight budget, I waited for a 25% discount code (thanks Susie So So!) and snapped these up for £33.75 (after discount):
They may not look it here, but they are high waisted – or rather, higher than I am used to: they are probably designed to be more *on* the waist… mid-rise I guess you call it?  The fabric is a mid-heavy weight denim/cotton and they are remarkably comfortable.  I wore them out on Saturday night to a friends drinks and they were just the ticket for dressing up with some stack-heels without looking overly dressed up.
Of course being a shortie, when these Warehouse ones arrived in the post and I first tried them on, they were ankle-grazing palazzo pants on me so perhaps not the best for petites.
That said, over the years I have mastered taking up hems, and these were a simple machine-sewable hem which took me a total of 20 minutes to do – which includes the cutting & prep.  I did take some photos of each step and may pop-up a quick 'how to' tutorial about how I did it.  Watch this space.
Back to culottes – they are of course, everywhere and in a whole range of budgets.  Here are some of my favourites, starting with an offering from the mothership, Cos at £69:
I love the simplicity of these and they look as though they are made of a light-weight cotton so would be ideal for the warmer summer months.  If we actually get a summer of course.  Perfect styling here from Cos – of course!
Next up re these ASOS Navy Culottes, currently reduced to just £24
Great for wearing to work and the slightly wider waist band means it would sit well under tops as well as flattering any tops you tuck in.
Moving on to Zara, there are an abundance of different shapes, lengths and colours to choose from – they really do have something for everyone.  I adore these cute pleat front Zara Denim culottes from their TRF range.  And priced at a teensy £19.99, I may well have to add them to my birthday list (2 weeks today!):
Love these.  They would look fabulous with some #boxfresh white sneaks and the pleat detail at the front gives them that added bit of extra femininity.   Now if you were after a more skirt-like pair, this second offering from Zara, Jacquard Culottes – my favourite in the 'split-skirt' style (£39.99):
Its the zip detail that's won me over, and the extra flare on the leg would quite possibly mean that I'd have to twirl everywhere as they look as though they would flare out nicely in a twirl… however, as mentioned previously, they are probably not top of my list of cuts in the culotte category.
And what about petites?  Next do stock a few different styles in petites, such as these simple Black Culottes for £18: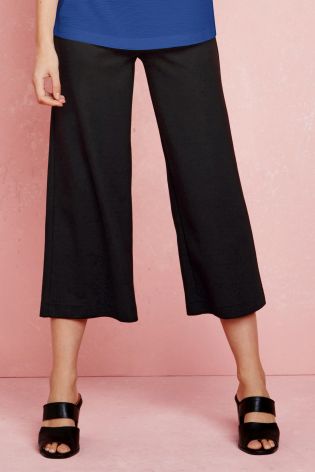 Or these denim-look Next Tencel-blend culottes for £30:
Over all, I've been disappointed with Culottes in the petites ranges.
And back to the other end of the budget, these Whistles Bella Zip Denim Culottes are gorgeous.  Sadly, even at the reduced price of £112, they are out of budget for me: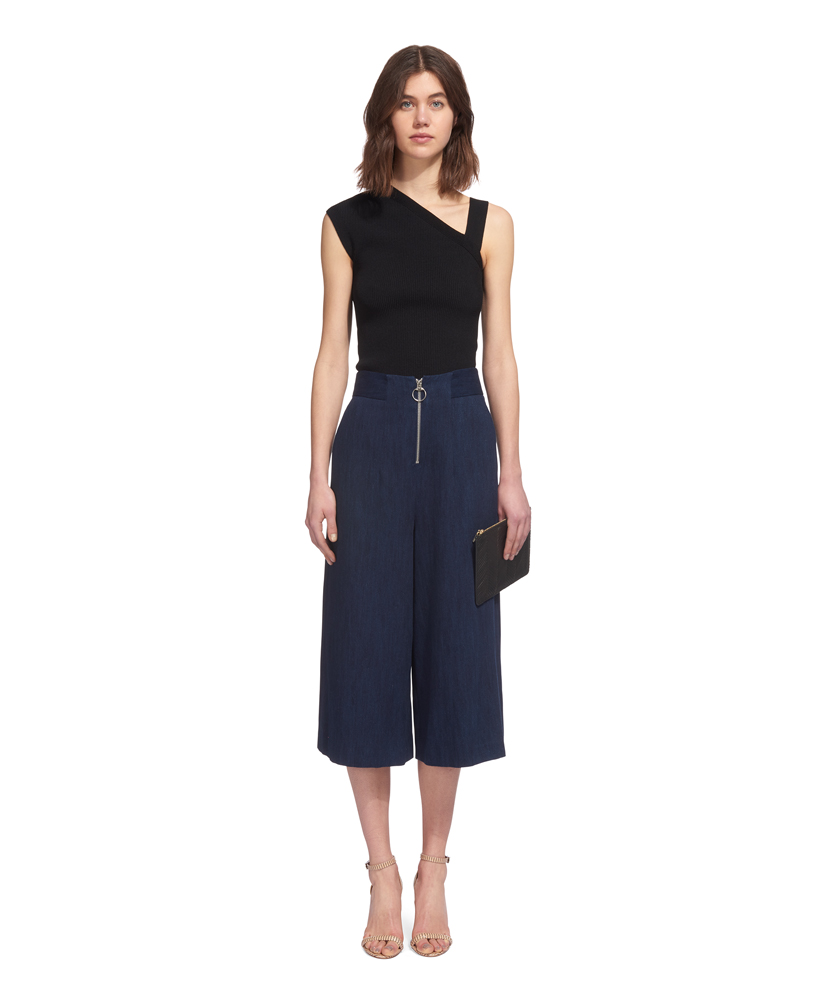 Though I must admit, because I am able to, and, until there is more 'petites' variety available, I will continue buying culottes that I like the look of (petites or not) & just deal with taking them up as necessary.  A pain, yes; but then at least I don't have to limit my options.
If you would like some more inspiration, Brittany Bathgate has been mine, and Susie So So is rocking an M&S pair of culottes in her most recent blog post with some great styling ideas.
Here I am, sporting my fabulous tie waist Warehouse culottes, pulling some awesome sour-puss faces:
And ok, yes… my legs are super pale and in dire need of some attention: the fake tan I applied for last weekend (when I finally wore *that* & Other Stories dress – earlier blog post) has all but washed off.  As I plan to wear these culottes on repeat, fear not – I will be devoting a little time and some much needed TLC to my poor vitamin-d starved pins.
In fact, its not just this week: rather tragically, I am already thinking ahead to Autumn (I know!  We haven't had summer yet! Bear with me though…): Because the fabric of these culottes is quite heavy, they will be perfectly wearable in Autumn, with a crew or roll neck and perhaps a pair of brogues even…
Anyway, back to Spring and Summer and the big question:
Are you guys going to Cu-lotte, or Not?
I'd love to hear your thoughts – leave a comment if you like? Xx