Hello & welcome to a cheeky mid-week blog post!
So… as Autumn's winding down and the colder winter months are pretty much upon us, I've been looking to add to my coat collection.
Primarily a smarter mid-length, or longer line coat and so over the past few weeks, I've been popping into stores to try on coats & thought I'd share my findings about over all fit of each style.
Being extra petite… and what I mean by that is, being very narrow across the shoulders is a right royal pain in the @rse when looking for a good fit.
Anyway, I'm not gonna bang on about myself, but I am going to share a few of the coats I've tried recently.
Pretty much all the coats I've tried are from Petite ranges, but are available in Regular and Tall ranges as well.
Starting with this Next Heritage Check Coat (£70)
This is one I featured in a previous Trench Style blogpost and one which I'd convinced myself would be my perfect check coat.
A great many of the checked coats out there are in grey tones, and basically, not my colour.
But this Next one, in terms of colour, had a warmth to it, probably from the dark red running through the checks which I was certain would work perfectly against my skin tone.
My local Next has a pathetically tiny petites section (all 4 items in it!) so I ordered the coat in for collection from store to try it.
Now, please excuse these photos – I made the classic rookie error of taking Instagram Stories photos… and worse, I'm even filtered in a couple!
#sorryyesreallysorry
Anyway, the comments on the photos do the speaking for me!
This was a Petties size 6 – which was a good fit on me.
From the cut of the coat across the shoulder, I'd say it probably comes up small.
I really loved the check of the coat, but the fabric was far too thick for the detailing of the coat:
The collar was very stiff and rigid which made it too high for my tastes – and as much as I actually love a high neck, I'm no Karl Lagerfeld!
And then onto the sleeve detail…
The fabric was far too thick for this somewhat fussy element.
However, the thick fabric made the coat feel really cosy and warm and the houndstooth check colours were gorgeous.
So if you don't mind super high collars, and have longer arms than me which can carry off the sleeve detailing, I would recommend this coat because it's at a really reasonable price point and of course, being Next, it's available in Regular and Tall range as well.
Given I'd set my sights on this Next Check coat as being "the one", and there were very much slim-pickings to be had else where on the petite check coat front, I moved on…
Topshop – Relaxed Fit Crombie (£59):
This very dark burgundy coat – quite brown in some lights, is very much one of "my colours" which is why I thought I'd try it, even though the "relaxed" fit isn't something which usually works on me, however, turns out, all I really needed to was size down to a Petites Size 4:
This coat has a dropped shoulder detail which I'm not the biggest fan of generally, but in reality, I think this coat, in the size 4 was ok on me.
Lighting in changing rooms is awful for taking pics, but hopefully, from the close up of the sleeve, you can see the colour better.
I liked the subtle contrasting navy at the cuff and under the collar – though impossible to photograph!
For £59, it's not half bad you know… and I say that like it's a surprise, because I was genuinely surprised myself.
Who'd have thought that I'd be recommending a 'relaxed fit' coat for petites?  That said, by sizing down, it was no longer as relaxed a fit as my usual size 6 would have been.
This coat is available in the Regular Range, but I couldn't find  a Tall version I'm afraid.
Sticking with Topshop, I also tried this Petite Millie Coat (again in a size 4, and again £59):
Now I couldn't really see very much difference between this Millie coat and the Burgundy relaxed fit Crombie one to be honest: looking at this photo from the TS website, you can see the dropped shoulder & contrast sleeve details which are the same detailing as the relaxed crombie coat.
Anyway, here I am trying it on:
Again, whilst it doesn't have the quality of Jaeger for example, it's really not a bad little coat at all, especially given the £59 price-tag.
I like it.
The only thing that held me back really was the dropped shoulder thing to be honest.
But I loved the contrasting red detailing:
I've wanted a camel coat for eons and this one *almost* ticked all the boxes for me.
Definitely one I'm thinking about.
Again, this is available in Regular, but I could only find the Tall version in Black online.
Moving on to HM… another gap in my wardrobe is a longer line, smarter navy blue coat.
And yes – I do want this style of coat in pretty much every colour!
HM Double Breasted wool-mix-coat (£79, although in store, this coat was hanging on a rail marked as 10% off)
Absolutely love the over all shape of this one.
But as you all know, HM doesn't do petites.
And I've tried this coat on a few times now, but my local store didn't have a size 6 in stock, so here I am trying the 8:
Which doesn't look to bad a fit in the pic – though please note the turned up sleeve cuff to show how long the sleeves were on me, better shown in this pic:
I think the second photo shows that I'd most definitely need a size 6 in this coat… and with that said, I'd say it fits true to size.
I love this subtle little gather in the shoulder creating a tiny 'puff' sleeve detail:
And whilst this HM coat costs exactly £20 more than the two Topshop coats, I have to say, this HM one *did* feel like it was a better quality of coat with a slightly heavier (and therefore warmer) weight of fabric.
Why didn't I buy it?
Well, altering the sleeves is a big fat turn-off, frankly.
And now another unexpected find… I was in town and I rarely go into my local Debenhams beyond the make-up and perfume counters at the entrance.
However, it was one of those 'nature calls' incidents where I hopped on the escalator to the first floor to use the facilities… and would you believe, I spotted this gorgeous coat on my way to the loo:
It looked small from a distance… and once I'd been to the loo (!!) I headed straight for the changing room with this beauty…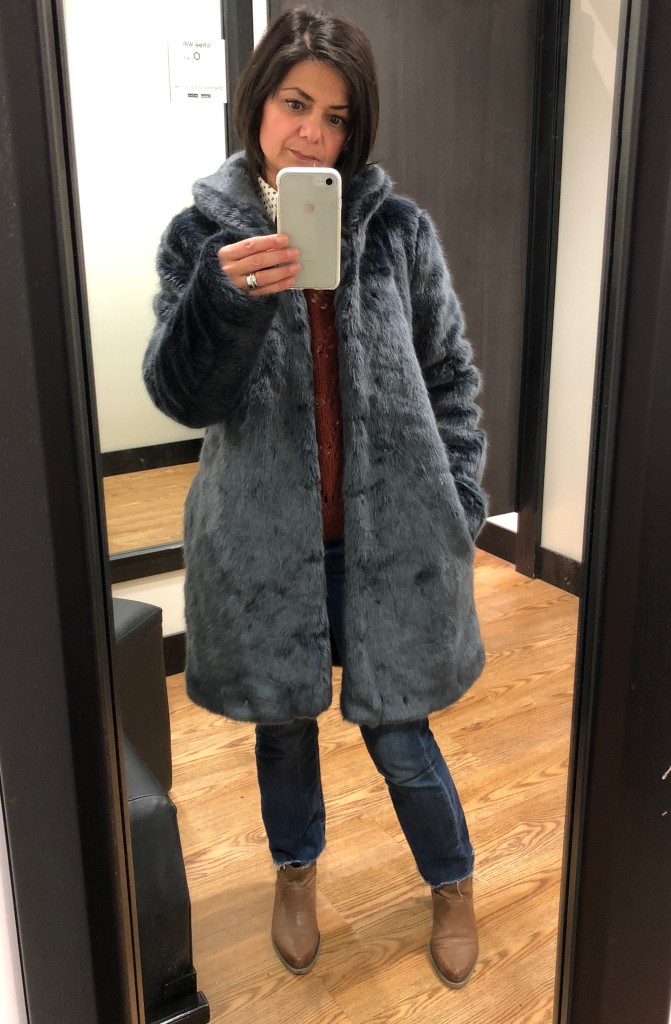 This, my friends, is a regular range size small: and it pretty much fitted me!
After my Zara Burgundy Faux Fur Coat of Dreams debacle (in which the size XS was massive on me) you can imagine my delight at finding a faux fur coat which actually, actually (like for real!) fitted me!
This Wallis Faux Fur is £80, and there's no doubt about it – it comes up small.
Where the size XS of the Zara coat I tried fitted like an 8-10,  this Wallis coat fits like a 6 – (small) 8.
The Charcoal grey has a lovely blue "hue" to it:
Absolutely loved it!
And although the sleeve length was a fraction too long, it really was just a fraction.
Had I not ordered (and decided to keep) another coat (my last one – coming up…) I think I would probably have bought this faux fur.
Admittedly, it would have been an impulse buy, and I probably wouldn't have gotten as much wear out of it as the coat I have opted to keep…
But… it's furry, cosy, gorgeousness was pretty irresistible!
I've earmarked this for the sales – and if I miss out, it will just have to be the one that got away I guess.
Oh – almost forgot to tell you that this Wallis Faux Fur also comes in Black and a Mink (a soft taupe) colour too if the grey isn't your cuppa.
And now, the coat I bought and *did* keep
And I've gone full circle and am back with a check coat Topshop Petite Check Overcoat (£95):
So since late August (or early September?) I'd been stalking the Topshop website for a Petite version of this (now almost sold out) regular range Bonded Heritage Check Coat:
This regular range version had a warmer, browner tone to it with a reddish line running through the check and cost £65, and having seen it in store – the weight of the fabric, the cut of the coat….
… the overall shape is very similar to the Petite Checked Overcoat I've bought, although the petite version is a grey-brown colour: but why does the Petites cosy cost an extra £30?
Hmmm.
I'll be honest and say I wasn't happy about the extra cost, but, when you're teensy, it's a case of needs must and all that.
And I have to say, I am more than a little taken with the coat:
This is a Petite Size 4, as yet again, this cut of coat comes up big.
From this close up, hopefully you can see that it's a brown and grey check: which from a distance does give the coat an overall cooler, greyer tone… but I've gone with it given how hard it's been to find a check coat which fits me.
So although I'm wearing the coat here with just a thin knit, there's plenty of room for a chunkier knit to be worn underneath as well.
Perfect!
The coat is probably available in the petites department of larger Topshop Stores and there is  good availability online: although the size 4 & 6 sold out pretty fast – keep your eye on the website as they keep coming back in stock but are also flying back out again!
All in all, what can I say other than: Topshop Petites Forevs!
And that's over and out from me until Sunday.
Would love to hear your thoughts as always… anyone else finding that you need to size down in what was previously considered tiny Topshop sizing?
Or is it just me?
Or in fact… is it just the cut of these coats?
Leave me a comment – I'll get back to you!
Thanks for reading
Bx