Hola!
Having barely slept last night from the stresses and dramas that come from home renovations, I decided I would take the day off and actually blog a proper review post about my Zara order (which follows on from my last Sunday 7 – Zara edit.)
Having blogged about all the lushness from Zara's New-in section on Sunday, I decided to bite the bullet and place an order that night, which included a few bits from the edit, as well as a couple of pieces from previous Sunday 7 posts.
I realise I've been quite the "whingy old bat" recently on my blog posts, somewhat over indulging myself with all my building work woes, so aside from this brief little mention of it… namely to say "sorry!!"…  I promise to stick to the point today and not drone on: deal?
So… I think it's probably easiest to run through the Zara order one item at a time, starting with this Polka Dot Blouse with Bow (£29.99):
A quick recap of why I ordered it: the colour!  I love this colour, but even better, this colour loves me… I did however have reservations about the length of the tie and whether or not I'd make use of such a blouse.
And here I am trying it on:
So, it's not terrible, right?
But neither is it brilliant.
I forgot that most wrap style blouses are better suited to those blessed with more up front… an area I am woefully lacking in!
Although, that said… I have, in the past, worn faux-wrap style tops with success… but this is just a no-go for me.
It's not just the wrap element, but the actual length of the top is kinda cropped – and I'm properly short and saying that!  Perhaps as the size increases, the over all length of the top might have an extra centimentre but ultimately, it's definitely one to be worn with a properly high-waisted bottom, or over a dress perhaps as the wrap/tie sits high on your true waist.
My reservations about the tie were unfounded, it's not overly long at all.
Verdict: it's going back
Next up… the gorgeous deep, dark, red Leather Ankle Boots with Block Heel (£79.99)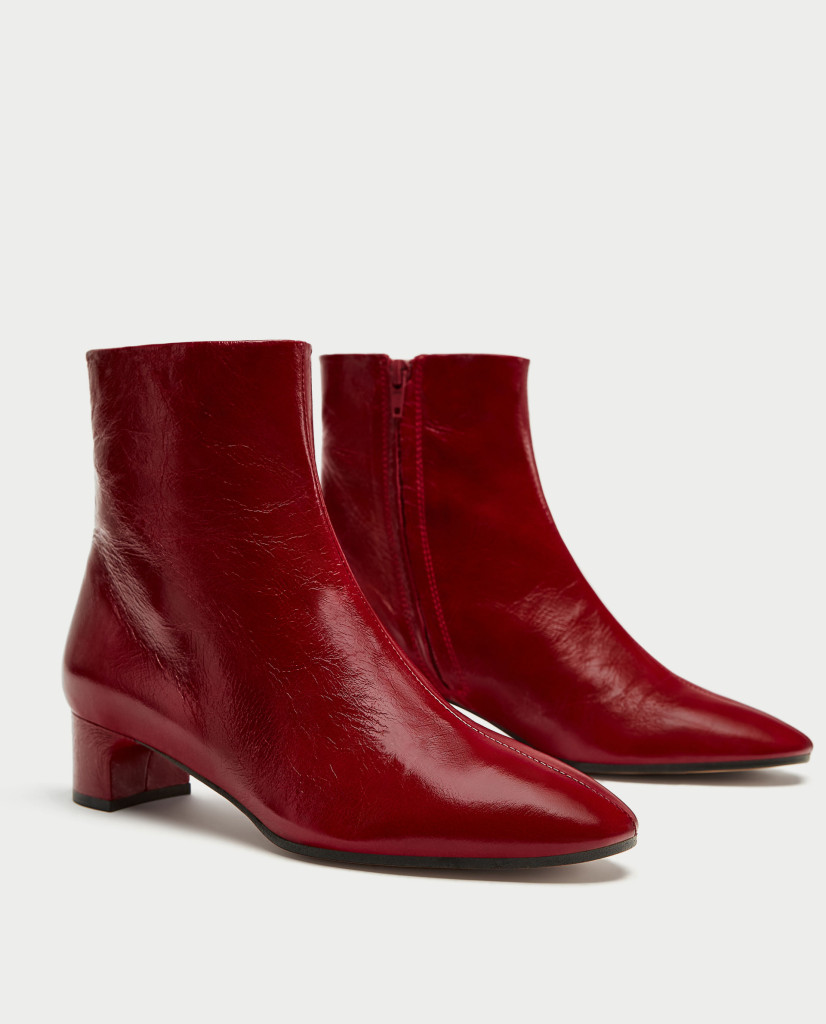 So, again, it was the colour which drew me in again: such a gorgeously perfect, deep scarlet kind of red.
And whilst I'm not a heels girl per se, I can manage a small block heel like these, and often am glad of the little lift:
It was really difficult to capture the true colour of the boots but I would say the colour is better represented on the web photo than mine!
I am always a size 36 in Zara shoes; but these red boots?  The 36 is too big!
They do come in a 35, but do I like them enough to re-order?
The answer is simply: I'm not sure.
Shoes / boots are such an individual thing where one detail (such a as pointy toe) is shoe perfection to one, and shoe hell to another… and with these Zara Red Boots, I didn't love the heel.
Equally I didn't hate it…
But I like to love the look of my shoes / boots from all angles and I couldn't say that for this pair.
For a lesser price, I would probably overlook that one angle where I'm not happy with the boots (and yes, I am fussy)…  but for £80…?
Verdict: it's going back
From a previous week's Sunday 7 on Midi Skirts, I had this Midi Box Pleat Skirt (£29.99) in my basket, and finally decided to go ahead and order it this week:
As the skirt is over on the knee in length on the model, I knew it would be a maxi on me… which was precisely what I was after, a maxi skirt:
I quite like it.
In terms of the geometric print it has a little of the La Double J about it, but for a fraction of the price.
However, the skirt is unlined and made of an exceptionally thin polyester fabric – almost quite silk like: I'd be worried about potential static.
The skirt has some box-pleats from mid-way down which mean it's got extra give from the fabric of the pleats, therefore it's easy to walk in… which is actually an important point to note: when wearing a regular range midi-skirt as a maxi, the skirt can be restrictive for walking unless there is a generous cut/split etc… so this geometric print one is a good one in that regard.
Hmmm… but there are no pockets.
#everythingshouldhavepockets
I need to sleep on this one – work out whether I'll get the wear out of it, or whether, because I'm usually such a print-o-phobe, it'll just end up hanging in my wardrobe looking pretty, but gathering dust.
Verdict: undecided
And have I saved the best for last?
*THAT* teddy coat of dreams – Textured Coat with Lapels (£89.99)
I've been on the hunt for a 'teddy coat' for years.
They just never seem to be the right fit (as in – they are massive on me) nor do the colours of these teddy coats (usually) work on me.
But, is my hunt finally over?
Is this deep red Zara beauty finally the one…?
As you can see… sadly not.
It's just TOO roomy on me.
If you look closely at the photo of the coat on the model, you can see that the shoulder seam is dropped, and that the coat is cut in a slight cocoon-fit:
And really, I knew in my heart that this coat wouldn't be the best on me… not even with a giant, thick, chunky knit under it.
No matter how, very much I love the fabric and the colour… I am simply too small for this coat in the smallest available size.
AND… I thought this might send me down a hole of fashion-sizing-despair… but it hasn't.
There's so much else going on in my life at the moment, the fact that this "coat of dreams" turned out to be a "coat of shattered dreams" for me, isn't quite the heartbreak I was expecting.
It's such a beautiful colour though!
Hey-ho.
Verdict: it's going back
And a couple of extra's….
I ordered these Cropped Check Chino's (£29.99):
But due to stock issues, the trousers were cancelled from my order.
And then very randomly, quite at the last minute I added this Checked Mini Dress (£29.99) into my basket:
Why?
Well, just because of course!
No… it caught my eye because of the tartan print: I used to have a dress very similar to this when I was 8 which my mum made for me… in fact, I may even be wearing it in a school photo somewhere…
Also, I used to love wearing my red-tartan print boyfriend shirt when I was 16, with only one side of the front hem tucked in, the other hanging halfway down the thigh of my jeans, with my faithful DM boots.
And whilst there are some fashions from my past, I'm more than happy to leave in my past (super-mini-mini skirts with chunky lace up knee high boots: I'm thinking of you!)… this tartan-check just holds a special place in my heart:
Now I no longer have Dr Marten boots, but I do have my Ganni Masha Boots, which will just have to do.
For now.
There is definitely room for some chunky DM style boots in my shoe-drobe!
The dress is very, very a-line, and to be perfectly honest, I could do with a little less fabric… a little less swing.
And, it could do with pockets to be honest.
Yet, somehow… I'm willing to overlook these issues which feel like minor issues when something just gives you joy.
So, for lifting my spirits…
Verdict: it's a keeper!
So there you go… is it me, or is it always the random items you take into a changing room / order on a whim, which then turn out to be the surprise hit?!
And as for me ever finding a teddy coat which will fit… I think I might give up.
I'm not throwing my teddy out of the pram (Ha! I'm *so* not funny!) but I think perhaps the very essence of teddy coats are meant to be oversized!  Something which my frame is just too small for.
I need to get over it.
What do you think?
Leave me a comment – I'd love to hear your thoughts.
Thanks for reading.
B x
{All items were ordered from Zara in a size XS; and apologies for taking photo's with the rather busy back drop of my boys bedroom: it's the only dust free zone in my whole house!}