I hate the summer sales.
I mean, I love a bargain – I really l.o.v.e. a good bargain, however, I seem to go 'sales blind'.
Or, in other words, I can rarely find a single thing I like or want (anymore) and find myself browsing the 'New In' sections… plus things I've had my eye on and hoped would go into the sales, either don't get reduced or are sold out before the sales have even begun.
A lot of this has to do with our lack of *true* summer, and so I find summer clothes shopping somewhat 'meh'.  This feeling is only magnified by the fact that we have only had 2 x 1 week holidays in the past 5 years to sunnier climes.
This year however, things are different.
Our Small Town Threads family have a one month trip to Spain planned (more on that next week!) and so, having not shopped for any true summer clothing in *years* I have been ordering and returning and re-ordering like a crazy-possessed-my-life-depends-on-it-loon!!
I've driven myself and my bank balance totally nuts.
In the main, its Zara and Mango I've been shopping from and I keep telling myself that this is a completely idiotic thing to be doing given I'll be able to buy cheaper in Spain, however, we all know that as far as "The Sales" are concerned, you have to buy it whilst your size is in… plus, given what's going on with the EU, I don't really want to think about how weak Sterling will be or not… ugh.
Anyway, this is a #happyplace so I won't talk politics.
Here are my hits and misses, starting with a #HIT from Zara – these TRF Denim Culottes which I posted about a few posts ago, actually (actually) did do into the sales:
I ordered both the size 4 and 6 with the size 4 fitting best; they are a lightweight denim/cotton, and best of all, I didn't need to take them up: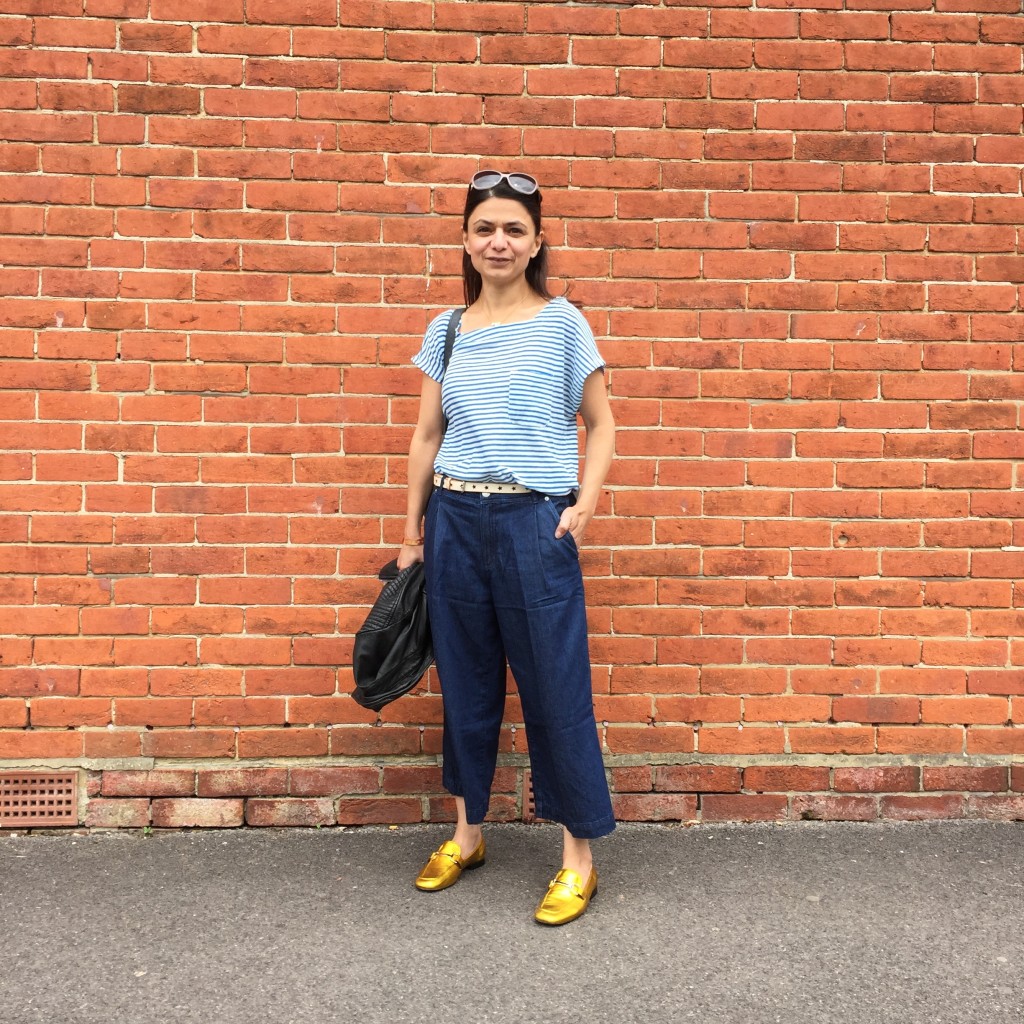 wearing with: Zara Striped Linen Tee (sold out)
Apologies for the fact that I'm mid-sentence in this photo, but its the best of a great many shots!  I would recommend these to anyone as they are a bargain at £9.99, perfect for this strange non-summer-summer we're having and would see you through from now through to (*whispers*) Autumn.
Only minor negative is that they are erm… 'long in the crotch'!  What I mean by that is that there seems to be rather a lot of folded fabric/zip when you sit down.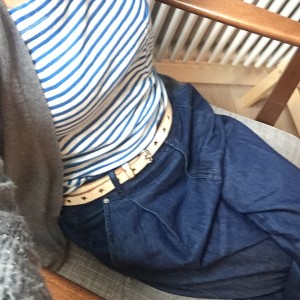 However, this long-in-the-crotch issue is also a positive feature as they make these culottes super comfortable.
Final verdict: #itsakeeper!
Next, a #MISS from Mango: this £17.99 V-neck Jumpsuit:
I knew it would be longer on me than on the model, however given its a size XS, I couldn't quite believe how huge it was on me: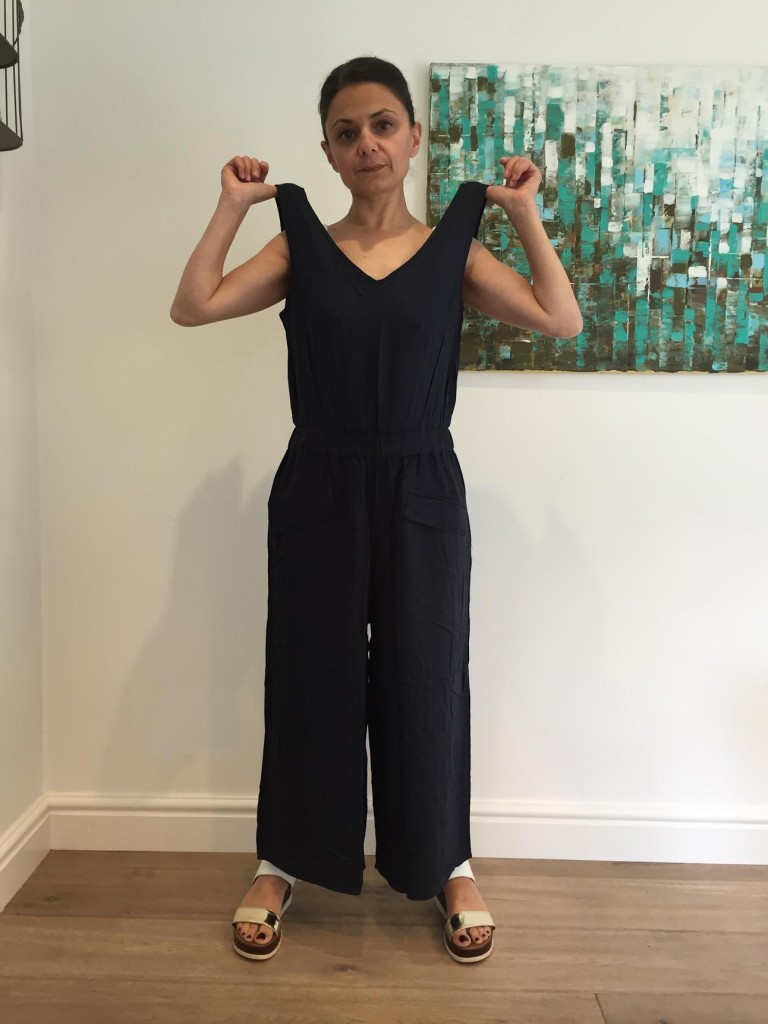 I don't know why I ordered from Mango:  their sizing / cuts rarely work on me!
Final verdict: #adefinitereturn!
Another #HIT from Zara: this linen tunic with slant pockets (basically, a shirt dress!), down to £12.99 (now sold out):
I have issues with shirt dresses sporting 'curved hems' as they just don't work on me; and perhaps it's also to do with my Asian background in that the curved hems remind me of the traditional men's 'shalwar chemise' suits and as such, when I see a curved hem shirt dress, I feel like the trouser part missing!
I first saw this on Susie So So's blog/Insta feed, and she looks just lovely in it!  Sue has also given these loose-fit comfortable dresses a most fabulous name of 'buffet dress' as they can hide all manner of sins: a perfect description!
Inspired by Sue, I ordered the dress as it was reduced to £12.99 and I have to say, it did not disappoint: I've got a lot of love for this dress!
as its easy to wear; it will be cool because of the fabric, but its nice to have a bit of sleeve for the evenings and it can be worn loose or belted.
Final verdict: #itsakeeper!
Next, another #MISS from Mango: this floral print dress:
Although this dress is only £14.99 and it did look pretty when I tried it on, the dress has a crazy low scoop neckline on me and way too big on the arm holes on me:
So although I loved the print and the length of the dress, I couldn't really wear this without a top under it, which wasn't what I had in mind for this dress.
Final verdict: #adefinitereturn!
My final #HIT from Zara: this lovely front pleated little skirt – a total steal at just £9.99: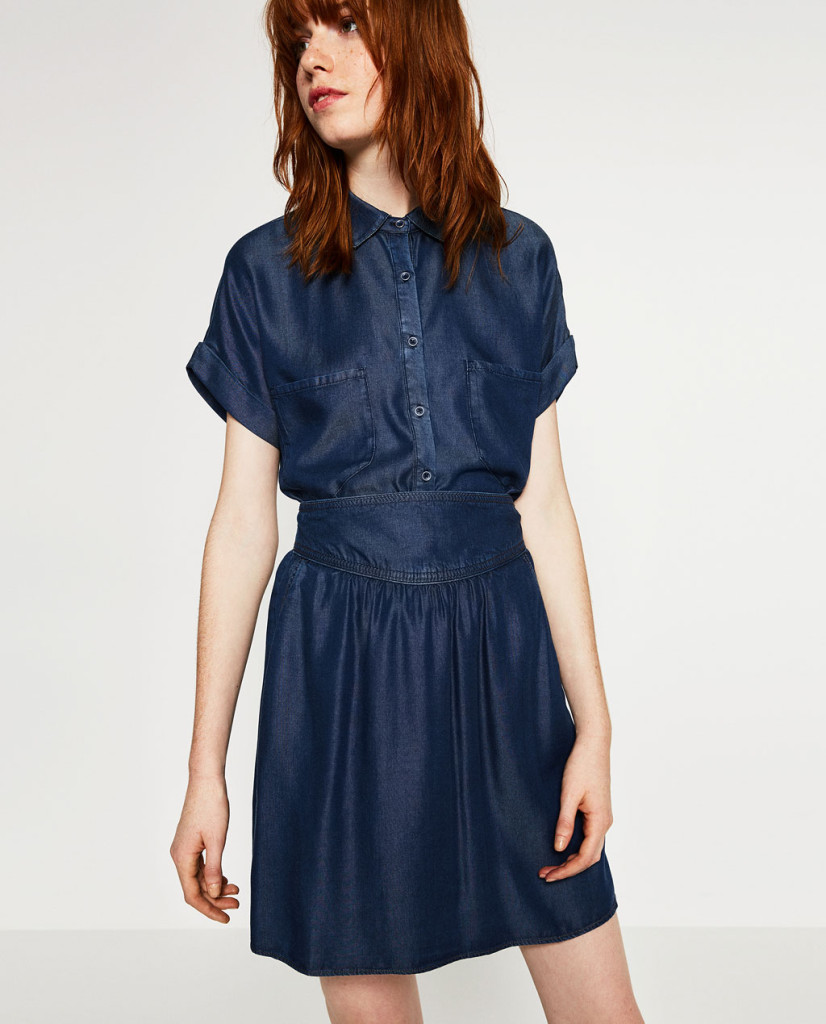 LOVE the light lyocell fabric which is fort of 'flippy' and flirty, but not flimsy: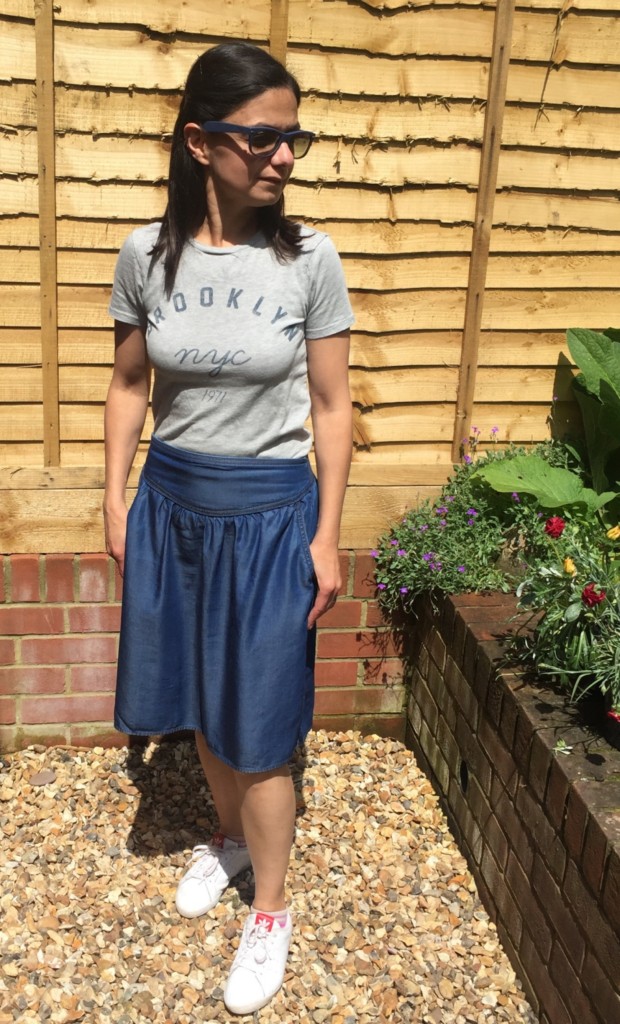 Its a great length; super easy to wear with its elasticated waist and I adore the detailing on the waistband:
Final verdict: #itsakeeper!
Now it wasn't all perfect from Zara… this Poplin Dress was a total disaster and a total #MISS on me:
This is from the women's range rather than TRF which might explain why it was enormous on me!
I cannot find it online to link to it, which can only mean that its sold out and that others had more success with it than me, but I think the photo of me wearing this dress says it all really…
Final verdict: #adefinitereturn!
I also ordered a couple of other bits from Mango which were not for my holiday but I was hoping they'd be good for Autumn; however,  I'm afraid I couldn't even bring myself to try them on, including this Mango open work trim blouse:
The colour was so insipid against my hands as I unpacked it, I immediately repacked it!
A real shame as I have an old Mexx leather swing jacket and was hoping to achieve this kind of Me&Em look on a budget:
Sadly, wasn't meant to be.
I also ordered this black & white Mango check top, hoping it would be good for cooler summer days here as well as warmer Autumn days:
However, as I unwrapped it, I could see it was going to be massive on me and again, repackaged it up immediately for return.
Over all, a mixed bag, but I'm happy with my #HITS from Zara.
I think that if you're a Petites size (like me) then Zara seems to have more suitable cuts / sizes than Mango.
Now, there is one final sales purchase from Zara to share with you, that I haven't quite decided on yet.
It's not really the sort of throw-on dress I would wear here in the UK, however, I do think I'd wear it in Spain and make good use of it and again its sold out online:
I like the style, the fit, the colour and the fabric… its has pockets and was just £15, and yet… I seem to have a niggle in the back of my mind about whether to keep or return:
What do you think: is it a #HIT or a #MISS?
Thanks for reading and as ever, would love to hear your comments.