Unless you've been living under a rock since August, that time of year when all the new Autumn /Winter loveliness hits our stores, you will have noticed that *the* coat to buy this season would be a Leopard Print coat.
From Fearne Cotton sporting a bargainous £29.99 Tesco's F&F one…
… to Lauren Laverne sporting the much pricier (£189) and again, SOLD OUT Boden one:
And, as Leopard is (by all accounts) a 'neutral', in theory, you should be able to pull this coat after year after year…
However, what if you're tiny like me, and there's just too much Leopard print so the coat winds up wearing you, or you're really just not into *so* much bold print and it makes you feel like an extra from 'Showaddywaddy'? (if you are younger than 40 and thinking who…? whaaaat?? Go Google!)
So, I have to say, I bought hook, line and sinker into the 'must have a leopard print coat' and was on a mission to find the right one: I managed to try the Tesco F&F one, and although nice enough, the size 8 was enormous on me and well, the doubt as to whether I really did want such a loud coat started to creep in…
Here I am, sporting a size 6 Topshop Leopard coat (£85):
As you can see, the coat doesn't really fit well!!
In fact, during my quest to find the "right one", I've come to realise two things:
I can only do small amounts of Leopard, broken up by a mass of solid colour e.g. leopard print cardi worn with black and the second thing was that…
… it's not just the print bothering me, but it's the print in conjunction with this season's masculine tailoring
Here I am in an ill-fitting (on me) Topshop Petites size 4 Meg Zip coat (!! I know, what's going on? I'm not shrinking!) in a plain camel colour:
The long line v-shape / blazer style coat simply does not suit me, my height or my body shape. End of.  It made me feel like an extra from that 80's show Minder!!
I started to look around for more regular coats, perhaps a bit of tartan or check… inspired by the ever stylish Julia Rebado from Stylonylon after seeing her in this Boden Beauty:
Not only was this particular Sienna Textured Coat sold out in my size, it was also waaaaay out of my budget at £299.  Still lots of size 8 and up available though… #justsayin
Wandering around my Small Town, there's not a great many shops but I had a look in all of them (Topshop, White Stuff, Marks & Spencer, New Look and Jigsaw) and the only one which truly caught my eye was this Jigsaw Plaid Giant Rever Pea Coat:
Having tried it on I can confirm it's gorgeousness in the flesh.  I like the shape / the cut – perfect for petites/regular and tall body types, but alas, the smallest size in-store happened to be an 8, which of course  was too big for me and my no-shoulders and no, I didn't order the 6, because at £198, it's just to pricey for me right now.
However, if you look hard, you'll always come across something similar at the other end of the high-street, ever trusty HM or New Look will usually have something similar, and on this occasion, it was HM which came up trumps:
Pretty similar to the Jigsaw jacket above with its subtle tartan and although I prefer the muted colours of the Jigsaw one, I couldn't really help but order this HM Wool Blend Jacket given the £49.99 price tag.  (I promptly signed up for newsletters in order to gain a 25% so it actually cost just £37.49!)
Whilst waiting for my coat to arrive, I've had a little look around and found these coats, which, if you haven't invested in a winter coat just yet, and would like a little pattern but don't fancy full blown Bet Lynch then perhaps one of these may take your fancy?
I'm starting 'bold' with this yellow & black double breasted coat offering from Sainsbury's TU range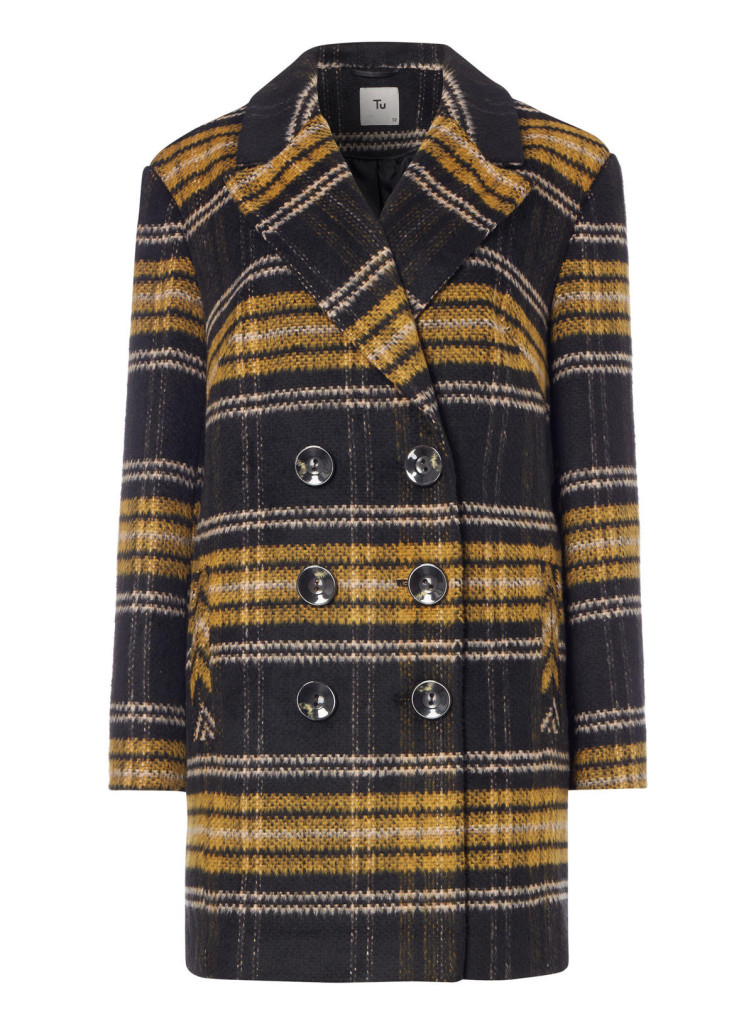 Now, I've never bought a coat from Sainsbury's but for £45, it's probably worth a shot?  It comes in sizes 8 – 22, which is pretty good, just not size 6 then!
Moving on to the rabbit hole that is La Redoute – man, it's a crazy big site to navigate around… but luckily for you,  I've browsed the coats and found these check/tartan numbers:
This Herringbone Boxy Cropped Coat currently has 40% off, down to £41.40
This boxy jacket would look fabulous with a roll-neck sweater underneath and the shape would lend itself well to being worn with both trousers, skirts and culottes.  Perfect for petites too!
This next one is probably more suited to medium/taller ladies given its cut:
This is described as a Checked Oversize Boyfriend Coat, a shape which would swamp narrow petites such as myself, however if you have shoulders (unlike me) and are taller than me (that'll be everyone!) then what's not to love about those colours? Its a classic and at £53.40, what are you waiting for…?!
It also comes in an off-white check which I love, but just not practical for me, but perhaps this colour way is more you?
This next offering, is still discounted but more expensive for La Redoute at £87, but it's a lovely looking Checked Coat:
This next one has been in and out of my virtual basket for months: it's not subtle at all, but it's one of my favourite colours and would bring plenty of sunshine to a bleak winter's day:
My only issue with this Checked Double Breasted Coat (£69) is that although I adore the colour, I know I wouldn't want to wear it daily… however, if you are of a daily sunny disposition, then this is perfect, right?
This next Tartan Checked Coat currently down to £65.40, is a bigger tartan print and again, I think better suited to medium/tall build ladies:
Coming out of the La Redoute rabbit hole and moving on to a slightly pricier French brand, Sezane.
If I could, I would have bought this coat in a heartbeat:
This John Coat (€295) is perfection! It's both elegant and timeless and sadly, sold out in all but size 14.  It was always beyond my budget, and probably my height too, but I had to include it as it really is just what I would love to be able to wear.
Finally, Mango has a few coats I like this season: I adore this Check Wool Blend Coat (£119.99), but again, the masculine/cocoon shape would do me no favours at all:
Whilst it may do *me* no favours, I can't help but fawn over its simple, muted tones. How about you?
Next… and I cannot tell you how much I adore this one… again, from Mango: a Textured Long Coat (£69.99)
I can only imagine this would be waaaaaaay too long on a shortie like me (Oh to be tall!!) but if I had the expertise I would certainly be buying this and taking it up as it would make me smile every time I wore it. Perhaps one for the sales?
And back to Leopard Print, if you still can't quite shake off that feeling of wanting to buy into this trend, Mango has two of the most subtle Leopard Coats out there and from what I can see of them online, the cut / shape of the coat is a more classic fit and would work for petites.
First their Animal Print Coat (£79.99) in black & grey:
And then this, my favourite animal print coat (on the high street) I've come across by far, Mango's Pockets Wool Coat and priced very fairly at £69.99:
So although I am loving all the Mango coats, I have to say that I rarely have much luck with their sizing: more often than not, their size XS is an 8 and their size 6 (if they have them) are also like an 8 on me.  Very, very rarely, perhaps because of the cut of the jacket… I can find ones to fit me. So, all is not lost for petites shopping in Mango!
And finally, finally… what of my HM jacket?  Well, it arrived and I really like it, but of course the sleeves are too bloody long on my short arms!
Now in years gone by, I have merely folded the cuff under and then become mighty irritated by them coming un-tucked every. single. time. I put my coat on.
So… this time I have a plan: I am going to remove the extra detailing of cuff band – it's a nice detail, but I prefer a cleaner line on me and I am actually going to attempt my first ever proper sleeve alteration myself.  Watch this space!
However, ignoring the sleeves… I really am rather taken with this little tartan-check pea-coat; what do you think?
I'd love to hear from you: are you all over the leopard coats, or like me is it too much for you?  Have I persuaded you any to buy into the check/tartan print instead?
As always, leave a comment & I'll get back to you.
Thanks for reading.
Bx