[AD – about 50% of the links in this blogpost are affiliate links]
Hello,
How's your week been?
I've been in a bit of a weather fug, again… it was another cool, grey week for the most part, which I found somewhat depressing.
However, the forecast was for a bright, sunny Sunday… and for a change, the forecast was actually RIGHT!
It's so good to see a blue sky with sunshine today… even if it it's still a tad chilly.
That forecast of sunshine got me thinking about shoes… Spring and Summer open up so many footwear options, don't they?
So, a slight deviation from my usual Sunday 7 format… I thought I'd cover the 7 main categories, as I see it… which make up my Spring Summer Shoedrobe:
7. The Summer Boot
Basically a boot which you're willing to wear with your summer frocks and wot not.
These are in essence, just any old ankle boot which you'd although you might wear during winter as well, but it's more about colour I guess.
White is always a good option:
These Zara Leather Mock Croc Cowboy Ankle Boots are a good option, and a great price at £49.99.
It goes without saying that his style of boot work with jeans and trousers, but they also look pretty cool worn with most styles of skirt & dresses as well.
However, if you are sick to your back teeth of wearing boots after the long, long, never-ending winter (which does thankfully, eventually end!) then hi-top trainers are a great option, which again, work with pretty much any and every style of outfit.
Converse would be my go-to, simply because they offer a vast array of colour and print for most tastes.
These Converse All Star Hi Yellow Black Egret Leopards (£64.99) are exclusively available at Office:
I'm pretty sure I've featured these in previous Sunday 7 wildcard looks…
They've definitely been calling me.
I think I am the only (high street) fashion blogger on Instagram who doesn't "do" leopard / animal print.
But I think it's pretty well documented throughout my blog, although I don't feel quite "me" in leopard print clothing, it doesn't mean I don't hanker after it.
Mainly leopard print shoes to be exact.
Given the whole 'leopard is a neutral' and print-clash 'movement' (aka: just wear what the hell you want…)
… I think these hi-tops would be a versatile addition to any summer shoedrobe.
My final summer boot option, is more a desert style of boot.
I haven't owned any for a great many years, but when ever I am out and about and see someone wearing a pair… I'm reminded how classically cool they are:
These Clarks Erin Sand Leather Boots (£69.99) are not the classic Desert Boots, but I love their minimal aesthetic, and think they'd look great with wide-leg crops, shorts as well as some dresses and skirts:
I'm pretty certain that this final option is no doubt a marmite style of boot, with many seeing it as that bit too boring and frumpy perhaps.
What can I tell you?
I like boring and frumpy sometimes!
6. The Flat Shoe:
Sticking with covered toes for the moment, the flat summer slip on shoe, whether a loafer, slingback or ballerina is a great option for those who work in more corporate environments or of course, those who haven't quite got round to doing (re-doing) their pedi's!
These Next Forever Comfort Asymmetric Slingbacks (£29) in Citrine are a the prefect, minimal slingback with just the right level of zing to bring any outfit to life:
Whilst magazines and social media are ramming the 'square toe' as this season's 'must have trend', we all know in reality, pretty much any and everything is a 'go' in fashion nowadays, isn't it?
There's ultimately nothing – as in – no, or certainly very little that is a 'brand new innovative' design.
Just a little tweak here and there…
For example, these Next Slingback's are an asymmetric cut across the toe.
They're also available in a black snake effect as well.
And onto loafers, with added interest rather than being too formal.
After all, we're talking spring- summer here, right?
These Boden Melody Loafers (currently down to £68.60 in the rose pink) are super sweet, and the prefect a 'chuck on with anything' loafer:
They're available in Black, Navy and Yellow as well, but as you all know… I'm kinda mad for all things pink at the mo.
I mean… how cute do they look?
I had no idea how much I needed pink loafers in my life until I spotted these!
And finally, although this last pair are described as 'ballerina' on style, they are, in fact… a bit of a nana-flat, right?
I have these Mango Leather Ballerina's (£49.99) from a couple of years back, and I can attest to both comfort and value for money.
Mine have literally been worn to death and as such, are looking decidedly 'tatty' and in need of replacing.
However, I'm going to see if I can't squeeze another summer out of them… I just need to give them a good clean, and perhaps get them re-soled: which is the responsible-fashion thing to do, regardless of how much a new pair may be calling me.
Mine are white, and just as with any white footwear, whether boots, trainers, sandals, or indeed, nana-shoe… they literally go with everything.
If white doesn't float your boat however, then these are available in a deep burgundy and Tan as well.
5. The Slide:
I'm going to start with the 'fugly' classics – Birkenstocks.
Many favour the double strap Arizona style of Birky, but I've never got on with these.
Primarily because my feet are too small & narrow so the whole double strap thing – regardless of the number of times I've tried, just don't work on my feet.
So it's the single strap Madrid I favour: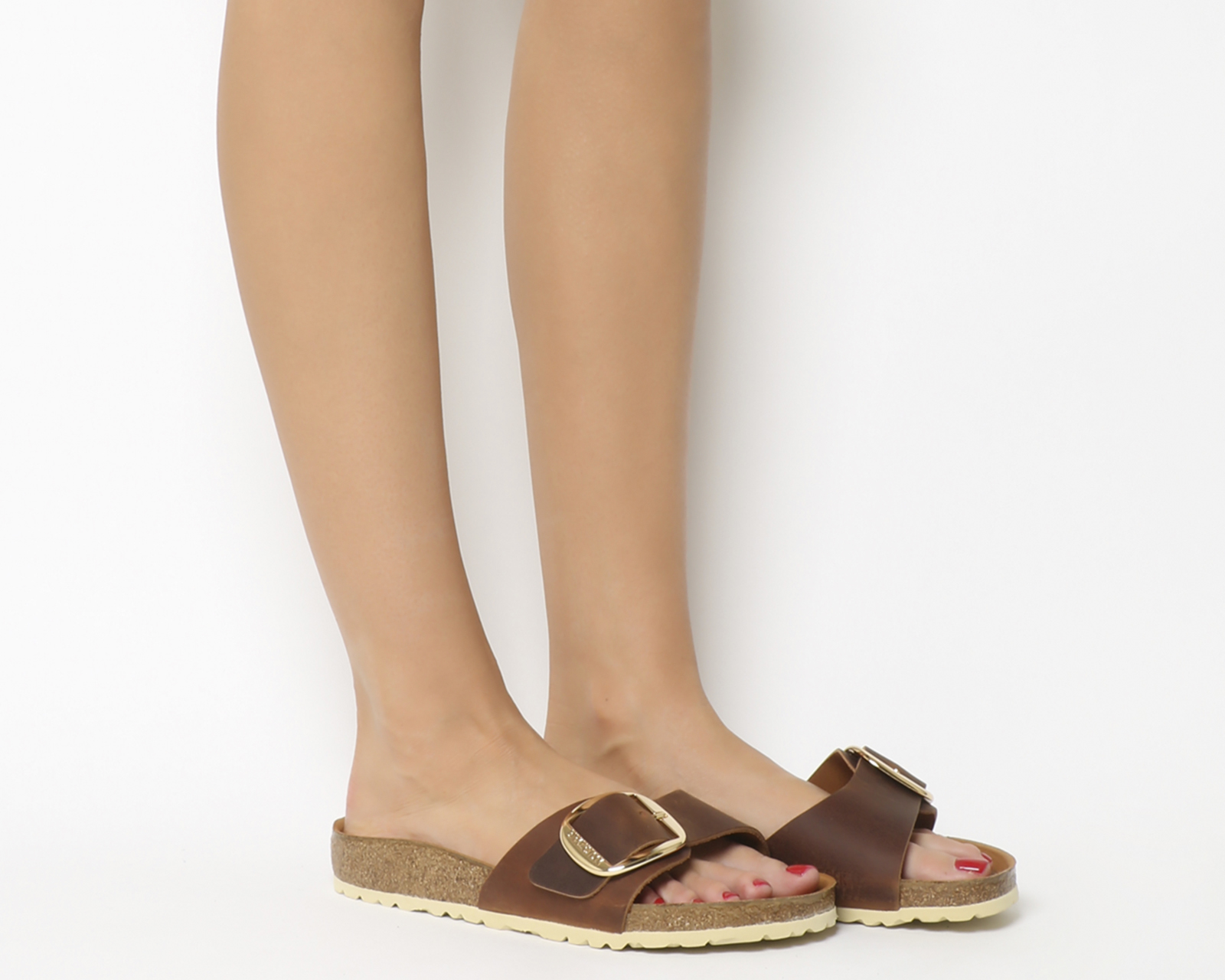 These Birkenstock Madrid Big Buckle Sandals (£79.99) would be my first choice.
I like the Congac colour which would work with so many colours and prints, but it's the added detail of the bigger buckle (than on standard Madrids) which I'm drawn to.
The bigger buckle means the overall width of the whole front strap is that bit wider, which is pleasing on the eye…
… pleasing only if, like me, you are partial to a fugly-slide, of course!
Speaking go fugly… next up, are pool slides.
Yup.
Love 'em or hate 'em… they really are a 'thing.'
And by that, I mean that there are many of us who chose to wear our 'sliders' when we are in our normal day to day lives and no where near a beach or pool.
Adidas Adilettes are the classic, obviously, but how about these Vivienne Westwood Beach Leopard Slides (currently reduced to £68):
Clearly, I like them.
What would I wear them with?
Wide-leg crops, denim, some dresses and skirts… and of course, they'd be perfect for holidays.
I used to *always* go for flip-flops over slides when I was younger… and although I don't mind a flop, I'm definitely more a slide kinda gal in my old age.
Not all slides are 'fugly.'
Of course!
These Zara Leather Criss Cross Sandals (£25.99) are far from 'fugly':
Definitely a smarter and prettier slide option.
Which are also available in Tan, Pale Blue, Yellow and Black.
4. The Drille:
So… I'm not the biggest espadrille wearer… primarily because I've often found them 'too heavy' for my granny-knee.
But it's more than that… regardless that I love the look of this style… I guess they're not very 'me' in that I so very rarely find myself reaching for the ones I do own.
They are a classic though, and it goes without saying… I love the look of them!
Espadrille.co.uk pop up all over my instagram at this time of year on the feed's of various stylish ladies I follow.
They have every 'wedge' height, every colour imaginable as well as ankle strap (buckle) and tie options:
These are the 'low wedge' option, with ankle ties, coming in at £78, but they are also available with an ankle strap if you prefer:
And again, this Ankle Strap version are £78.
If you're in the market for a pair of 'drilles, I'd definitely start with this site, given the multitude of colours, wedge heights and straps available.
If you're not a fan of the softer suede/canvas upper most 'drilles have, then these Dune Kicks Espadrille Wedge Heel Sandals (£68) might be preferable, given the leather upper:
These are also available in black.
But, hand on heart… my knees don't fare well with wearing a wedged heel.
I can of course wear them for shorter durations, but I'm a flat's girl at heart:
These Mushroom Rose Gold Toms (£44.99) are a perfect casual holiday 'drille for the flat footwear lovers amongst us.
3. The Mule:
Now some of you might say that a 'mule' and a 'slide' are, in fact, one and the same in Style.
However, for me… and I'm not entirely certain as to why this is… will always have a closed toe.
Think backless loafer, or babouche style (outdoor) slippers… something like these Jigsaw Cleo Babouche Loafers (reduced, £62)
Although you could, in theory, wear these with the backs worn up, like a shoe… they are, by their very design, meant to be worn with the back down:
So why even bother having the back in the first place?
Well… it's just the style, innit?!

Gives you options, right?
Plus, unlike many other backless loafers… these are ultimately, only open at the back/heel rather than half of the foot out.
Possibly not for everyone, but I happen to think they add an bit of French chic to your outfit.
These Jigsaw ones are also available in Black.
However, if you wanted a more 'summery' feeling mule, these off-white Straw Effect Pointed Mules (£17.99) are a pretty good option from New Look:
These would look especially good with some faded summer denim, whether jeans, shorts or a skirt.
Finally, a heeled option from Next:
So this style isn't really for me.
These Tiger High-Cut Cone Heel Mules (£48, also available in plain black) are lovely looking, and I briefly deluded myself this time last year into thinking I needed a pair in this style (Topshop had similar at the time…) but as lovely as the over-all shape and style is, they probably wouldn't have gotten much wear.
But as I a shoe-lover, I couldn't not include them.
2. The Canvas Sneak:
A sure sign of Spring is the emergence of canvas trainers.
In particular Converse.
These Converse Ctas Ballet Lace Trainers (£44.99) are especially cute and giving me all the summer feels.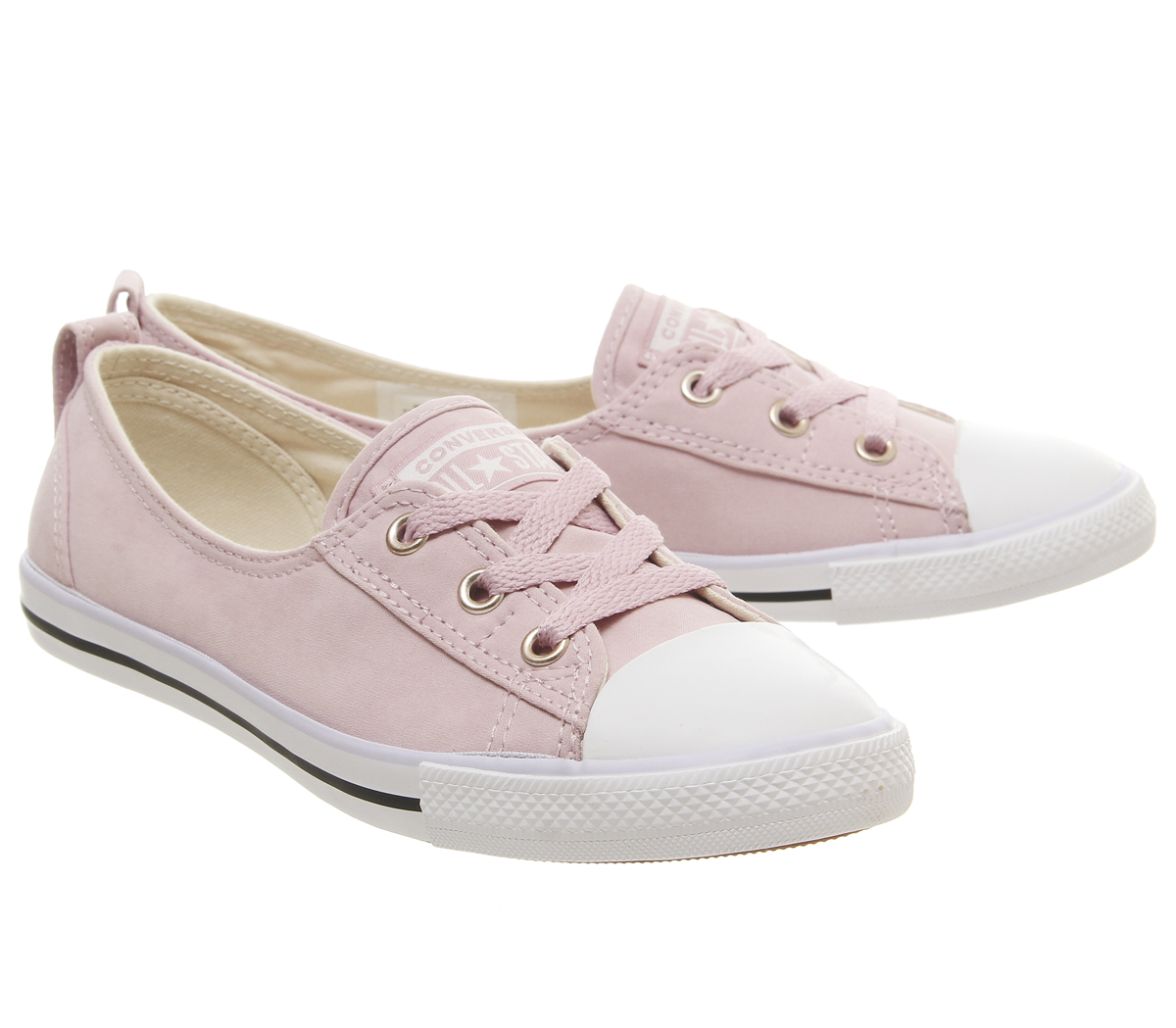 As ever, converse have such a wide range of colours and styles, there's something for everyone.
If you're after something a little different, with good, strong, feel-good, enviro creds, you can't go wrong with a pair of Veja's.
I have a pair of Canvas Wata Pierre's which are almost two years old now, much loved and worn, but still going strong.
This newer Veja Nova style (£80) look to be a 'lighter,' summery cut of canvas sneak:
Veja trainers are pricey, but they are also hard wearing and look fab.
And finally, if you're looking for a slightly chunkier style of canvas trainer, these White Superga's (£64.99) might fit the bill?
Although, in all honesty, I'm not completely sold on them just by looking at the photo; definitely ones I'd have to see and try first.
1. The Sandal:
Before I gave my job up to become a stay at home mum, I'm pretty certain I didn't wear open-toed sandals quite as much as I do now.
I wasn't a fan of wearing them on the tube to work, nor in the freezing cold air-con offices I worked in.
Plus, I had a massive aversion to seeing other peoples…erm… somewhat 'neglected feet' in meetings and wot not, so as a general rule of thumb, my toes would be covered for most of the working week.
Anyway… I digress… sandals *are* of course, the ultimate summer footwear, right?
Going to kick off with these budget end, Teva-esque, velcro strapped Sport Platform Sandals (£39.99) from Zara:
Again, in the fugly category and most definitely not everyone's cuppa, but I can only imagine they're actually pretty comfortable.
In terms of what they'd look good with?
Well… anything you wear your trainers with (which for me, is pretty much everything…)
Sticking with a 'sporty' vibe, I love the look of these & Other Stories Cross Strap Sandals (£49):
It's that bit of neon: love it!
If you're after a little heel, these Topshop Venus Asymmetric Sandals (£46) look like a good, comfy option given the narrow block heel: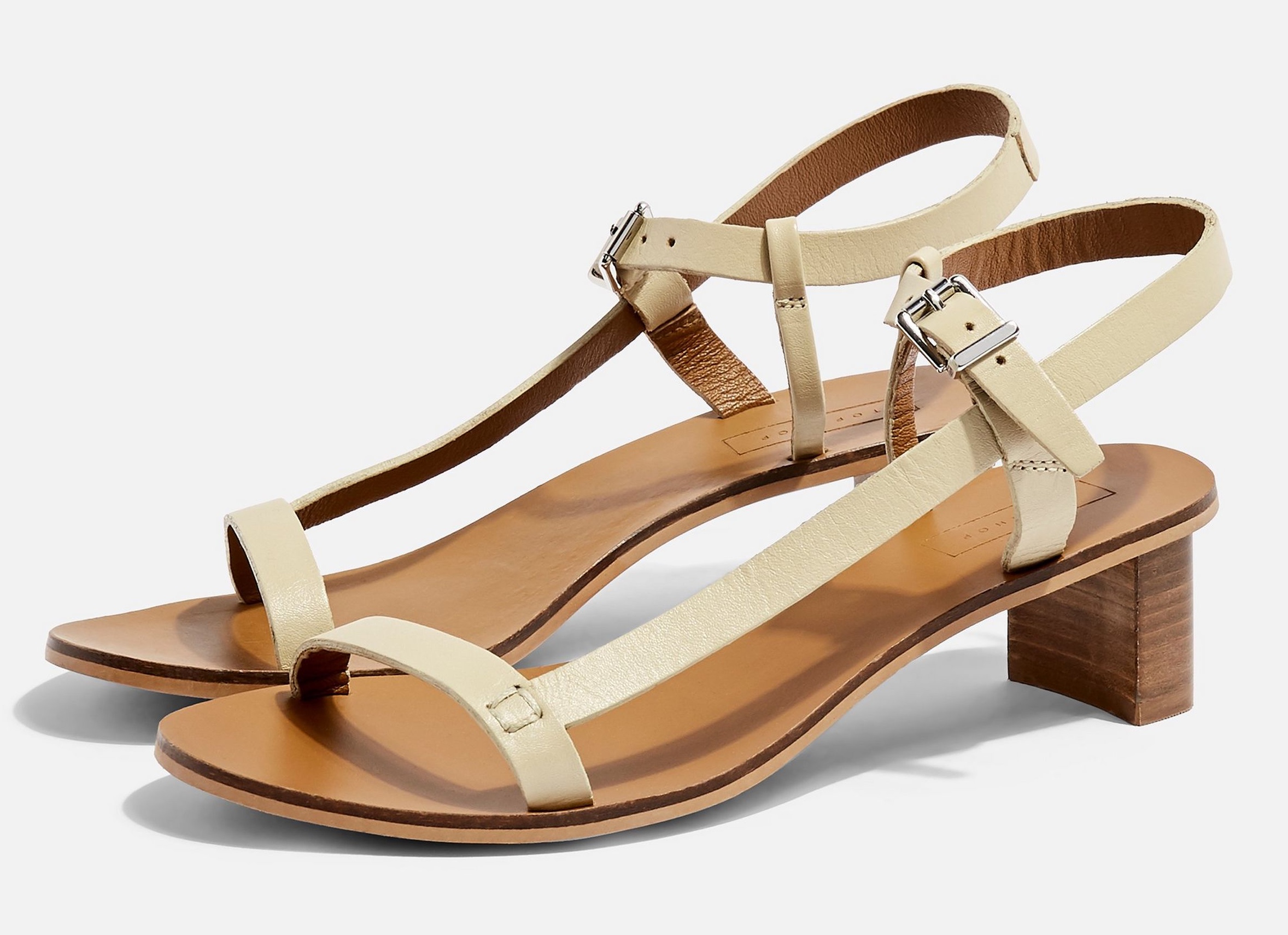 Absolutely loving the minimal, simplicity of this style.
They are available in Snake print and Plain black as well.
Because sandals are the biggest category for summer footwear, I can't help but remind you of the Topshop Strippy Sandals (only size 36 available online, but perhaps more sizes available in store?)
As well as Topshop's flat, strappy, bargainous £19 Hazy Sandals; I've heard mixed reports about the comfort factor of this style after featuring them previously, but for the price, I'd say they are definitely worth a punt!
And finally, I'm quite liking these M&S Cross Over Strap Sandals (£25)
I adore these in gold, which look so good in the sun, but they are also available in black, tan and yellow as well.
And that's it for today's somewhat bumper Sunday 7!
Apologies that there's no Stinker or Wildcard looks this week… they'll be back though.
That said, I have been wondering whether to shake things up a little on my Sunday 7's, and would be very much interested in your thoughts.
I was wondering whether you'd like to see someone else picking the Stinker / Wildcard for me, though I'd still style the looks up?
Or, perhaps having a Guest curate the wildcard looks – all of them, or just one look?
What do you think?
Or is that just too much change, and do you think I should stick to my tried and tested format?
Very much interested to hear your thoughts on this, as well as all my picks this week.
Do leave a comment below, and I'll get back to you.
Thanks for reading.
Bx