Hello, and welcome to an Easter Sunday 7!
Not that there's anything Easter-y about this post, it just happens to be Easter… which means we're in April already!
So, what have I got in store for you today?
Colour.
At this time of year… every year… I start craving some colour in my wardrobe.
I'm not the most daring when it comes to wearing prints and brights, but finally, with longer, lighter days, there seems to be an end in sight of the looooong, bleak, grey winter, and I start dreaming about being one of those women who is totally at ease about ALL the bright colours!
I do have a small smattering of colour in my wardrobe, but no where near enough, not by half.
So let's ease ourselves in gently, shall we?
7. J Crew – Gola for J Crew Mark Cox Tennis Sneakers (£65)
Spotted these Tennis Sneaks in this week's Grazia and it's love.
It's that little bit of bright yellow… and that they're Gola, a great British classic…
I started this blog two years ago… so it's been 2 years during which I've been re-building my wardrobe back up, from pretty much scratch…
… which means, I don't actually have an enormous amount of any-one-thing in my wardrobe: for example, my Adidas Stans have already taken a battering over the past two years.
My tiny little trainer collection is in need of an update, so these Gola's for J Crew might be just the thing.
Though I feel like I'd be cheating on my beloved Veja sneaks, of which I currently have two pairs in my virtual basket.
Need to get over that, right?!
Oh and I should probably mention these J Crew Gola's come with a Navy & Red stripe as well as a Gold version.
6. Zara – Geometric Dangle Earrings (£15.99)
Going to hold my hands up here and say, I can't wear this sort of giant, heavy, dangly earrings.
But when you see anyone and everyone wearing them, you kind of can't help but look at them, right?
Anyway, I saw these in store and thought they were gorgeous… but, they are huge: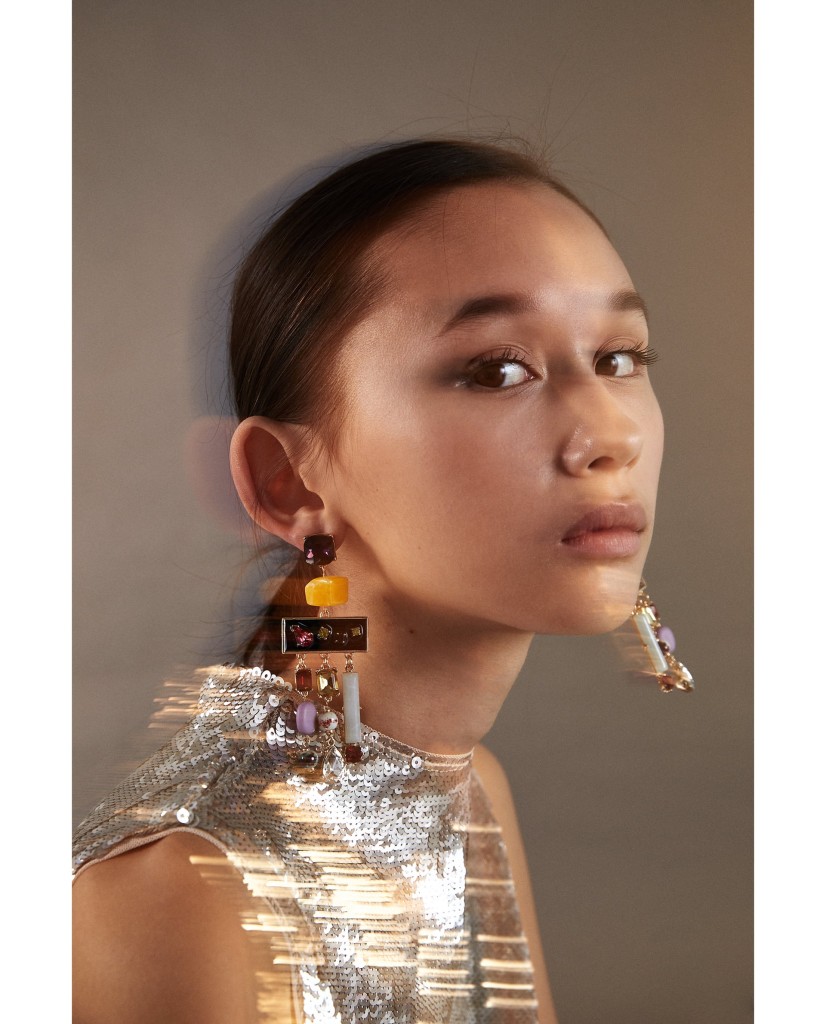 My ears are throbbing at the mere sight of how heavy they must feel, but… how lovely do all those colours look together?
If my ears could cope with the size and  weight of giant statement earrings, I would probably go for these.
Especially as they'd be the prefect way to inject some colour into my somewhat dark, neutral wardrobe.
5. Topshop – Daydreamer T-shirt (£19)
Not the hat.
Don't look at the hat… it's the rainbow tee!
This one may well be a sell out… it's been popping up all over my Instagram feed, though I first spotted it on Sara (@welliesandchampagne).
How perfect does the tee look with the green jacket on Sara:
It's this photo of Sara which may have just sold the tee to me!
4. Warehouse – Cotton Culotte (£39)
Loving the idea of some yellow culottes, which would fit right in with my mainly black & navy wardrobe.
I have a pair of Warehouse culottes from 2 years ago which have stood the test of time, and in fact, still have a lot of life left in them.
Whilst I haven't tried these yellow ones on – if they are anything like the usual warehouse trousers, then I imagine they'd be true to size.
However, yes… they're going to be full length on us shorties: a very simple taking up alteration though?!
I'm tempted.
3. Mango – Striped Rib Sweater (£25.99)
A fair few of this style knocking around the shops at the mo: ribbed, knitted tee's.
Loving the bit of stripe detailing on this one with it's gorgeous deep red colour.
Perfect for milder spring weather, which is coming (it has to!)
2. Urban Outfitters – BDG Oversized Cardigan (£59)
Who doesn't love an oversized, snuggly cardi?!
Though friends /family may complain about the brightness of this one!
I'm not sure I could cope with *that* much yellow zing myself to be honest, but it's such a happy colour and at a great price point for an oversized cardi.
1. Accessorize – Claudia Leather Crossbody Bag (£29)
The easiest way ever, to inject a little colour into your outfit.
This Accessorize Claudia Crossbody bag, would be a great little buy for any fellow colour-shy types like me.
The bag is suede on one side, leather on the other – though for £29, your guess is as good as mine in terms of quality.
That said, I have a red, pleather camera bag from Accessorize from a couple of seasons back which has had a fair amount of use and is still going strong.
Stinker of the Week: River Island Pink Shirred Bardot Frill Sleeve Top (£30)
I've never been a fan of this style of shirred top… always wind up feeling a few months preggo in them.
Though, I don't mind a shirred dress – somehow, the extra length/weight of fabric helps give a more flattering shape.
It's a personal taste thing I guess, and this isn't very me: coz!
Wildcard of the Week: Topshop Button Through Midi Skirt (£125)
Love this skirt!
However, it's leather and in a bright colour… so most definitely out of my comfort zone.
It's sold out online in all but the smaller sizes (4,6 and 8) though there maybe some availability in-store.
So how would I wear it?
Look 1 – Dressed Down: 
The good old trainer & sweat shirt combo, of course! Half tuck your HM Sweatshirt with motif (£19.99) and chuck a pair of J Crew Gola sneaks (£65) and some white Zara sunnies (£19.99), and you're done. What kind of bag? Which coat? Well… given the waist-tie of the skirt, I'd avoid a cross-body bag (unless you wear it as a shoulder bag) and go for tote/shopper; something like this Mango Striped Shopper (£29.99) would look pretty cool. Coat wise, I'd go for a dark denim jacket with this look, this H&M Short Denim Jacket (£29.99) offers just the right amount looseness for wearing over a sweatshirt, and all the casual-cool-vibes!
Look 2 – Dressed up: 
So I hardly ever get dressed up for going out-out… I can barely remember how to! I rarely manage to look properly grown up, but I think I'd go for something like this Zara Draped Linen Top (£29.99) tucked into the skirt with these Topshop Jester Leather Boots (£49).  I'd accessorise with these Zara Geometric Dangle Earrings (£15.99), and wear this Topshop Double Breasted Linen Blazer (£55) open over the top.  Finish with this uber cool Cos Metal-handle leather Clutch (£79).
Look 3 – Dressed Middle:
A bit of a mish-mashed look of a Mango Rolling Stones Tee (£19.99), the yellow leather skirt and a pair of Topshop Joice Woven Mid Heel Court Shoes (£46).  Going for longer line Cos Wrap Blazer Coat (£135), which of course, should be worn open, with this simple Trouva Ismad Natasha Leather Clutch (£55) to finish.
And that's it for another Sunday 7!
Hope you've all had a lovely Easter weekend so far – there's still another day to go: yay!
As ever, I love to hear your thoughts on my picks & wildcard looks, so leave a comment, and I'll get back to you.
Thanks for reading.
B x