[AD – This blogpost includes gifted items, but all words and opinions expressed are my own.]
Hello,
And welcome to this Sunday's blogpost…
I haven't done a 'Spotlight' on a brand post in a while, but after being sent a beautiful watch by Nordgreen Copenhagen, a minimalist, Danish brand – not just championing sustainability, but who understand the social responsibility that comes with running a 'fashion' business and as such, have a wonderful Giving Back program.
Now before I tell you more on that, and how it was that Nordgreen came to be, I figure you'd like to take a peek at the watches… but things you should know about all the styles:
All Nordgreen watches are water resistant – so no swimming or diving whilst wearing one, obvs!
All watches come are battery operated, with battery life expected to last between 2 – 3 years.
All designs, are available with a Silver, Gold, Rose Gold or Gun-Metal trim and an array of  leather strap colours, vegan mesh metal or nylon straps to suit every taste.
Price range, dependant on chosen style, size and strap are between £134 – £169.
1. Infinity Range:
This is the style I picked.
All the designs are sleek, and minimal, as you would expect from a Danish Brand, but the simplicity of the facade of this style, the hardware… set my heart a flutter:
I'm wearing the Infinity Silver, with White Leather Strap: the watches are available in two sizes, so I went for the smaller 32mm face size (obvs!) because I have matchstick thin wrists!
However, that said, looking at the photo of the watch on my wrist, I'm pretty sure it (ie my wrist) could have handled the larger 40mm size.
A close second for me, was the Infinity Rose Gold, with black mock-croc strap:
However, I tend to wear my watch on my left hand where my wedding rings are worn, which are platinum… so, my inner matchy-matchy side took over and I opted for silver.
At this point, I think I ought to show you a close-up:
Notice the slight convex?
I'm details girl: just as with clothing, the position of pleats, seams, pin-tucks and so on… have to be 'just so'….
… and so it was, when I was asked by Nordgreen to select a watch, it was the 'convex' facia of the Infinity style which pipped it for me.
Only just I might add!
Before I move onto the second of the 3 ranges, a little bit about Nordgreen:
Nordgreen is a name of two halves, Nord references the brands Scandi origins and Green references their commitment to sustainability.
Founded by two friends, Pascar and Vasilij, with Jackob Wagner at the design helm, (Jakob previously designed for Bang & Olufsen amongst others…)  their ethos is simple:
They wanted the best design and highest quality of watches, which could be worn with any and every style of clothing…
But they also wanted to create an honest, affordable and sustainable brand that puts people first.
There was no other watch brand doing *all of the above* so they started their own company.
And they've been true to their word: do have a read of their company Culture…
Like me, you'll think about upping sticks and relocating to Copenhagen to try and work for them!
And if that wasn't enough, their Responsible approach, which has created a Giving Back program would make any purchase from this brand, a feel-good-purchase.
More on that in a bit, next up…
2. Native Range:
At first glance, you may not be able to see any difference between this Native Watch style and my chose Infinity watch, however, if you look at the close-up:
You will notice the flatter, flush design of the face.
I'd say that my Infinity watch sits quite proud on my wrist, and I imagine this Native style would sit slightly flatter.
Again, the style is available in two sizes (36mm & 40mm):
And again, the style is available in all metal trims (silver, gold, and rose gold,) as well as the full range of straps to suit every taste.
What is the Giving Back Program?
When making a purchase from Nordgreen, once you've selected your style, and strap, you can select one of the 3 causes:
Partnering with Water for Good, Nordgreen will make a donation, from your purchase, which ensures that one person in the Central African Republic will have access to clean water for two months
Partnering with Pratham UK, Nordgreen will make a donation, from your purchase, which ensures that one child in India is given two months worth of Education
Partnering with Cool Earth, Nordgreen will make a donation, from your purchase, which preserves 200 sq ft or rainforest in Latin America.
I don't know about you, but to my mind's eye, that's a pretty strong Giving Back program.
All worthy causes, but of of the three, the provision of clean water in Central Africa speaks loudest to me.
I'll admit, I'm not the best at drinking my 8 glasses of water per day, (or is it 12 glasses nowadays?!) but the thought of not having clean water on tap, is truly devastating.
My children are of the 'water bottle' generation where they've been taking they own water bottles to preschool and then school since the age of 2, and are encouraged to drink water throughout the day…
This has created a 'thirst' for water in my boys in the way that neither my husband nor I have: as children of the 70s, schools expected us to survive on a  small plastic cup of water at lunchtime for the entire day!
But I digress… my boys have access to all the water they need.
And as such, that Nordgreen may well be providing the same 'luxury' to other children and adults in the Central African Republic… is heartwarming to say the least!
Now this was join-second for me.
Gun-metal trim!
But as I say, in the end, I went with silver to be in keeping with the 'silver' of my wedding rings.
Another beautiful design… this Philosopher style, in the gun metal finish in particular, reminds me of a watch my father used to wear and as such, I felt quite torn as to which to chose.
There's a sentimentality associated with picking out a watch, don't you think?
As well as the Gun Metal finish, the Philosopher range comes in all metal finishes, and the same two 36mm and 40mm sizes as the Native Range.
And finally, if you yourself are not in need of a watch, but have a certain special someone with a birthday coming up…
There's a Men's Collection, with the same styles available.
My Exclusive Discount Code:
If you wanted to treat yourself or someone special to one of these fabulous watches, use my exclusive discount code of BEAN15 to receive 15% off your purchase.
And as Queen Madge once sang: "Time goes by… so slowly… for those who wait; No time to hesitate…"
#treatyoself
Timepieces are for some, a thing of the past… given how reliant everyone appears to be nowadays, on their mobile phone clocks!
But for those of us who grew up with watches (not smartphones!)
… or for those of us who might still gesture to one another across a crowded bar or room with an index finger tap on the wrist, as a signal of "time to go…"
… watches are still very much a part of our day to day.
And indeed, since receiving my Infinity watch, I have worn it everyday and have found I don't keep reaching for my mobile to check the time, as I have the time on my wrist; which in turn means… I'm spending less time on my phone: after all, every time we time check on a phone, it's inevitable that a quick social media/email etc etc check would happen as well, right?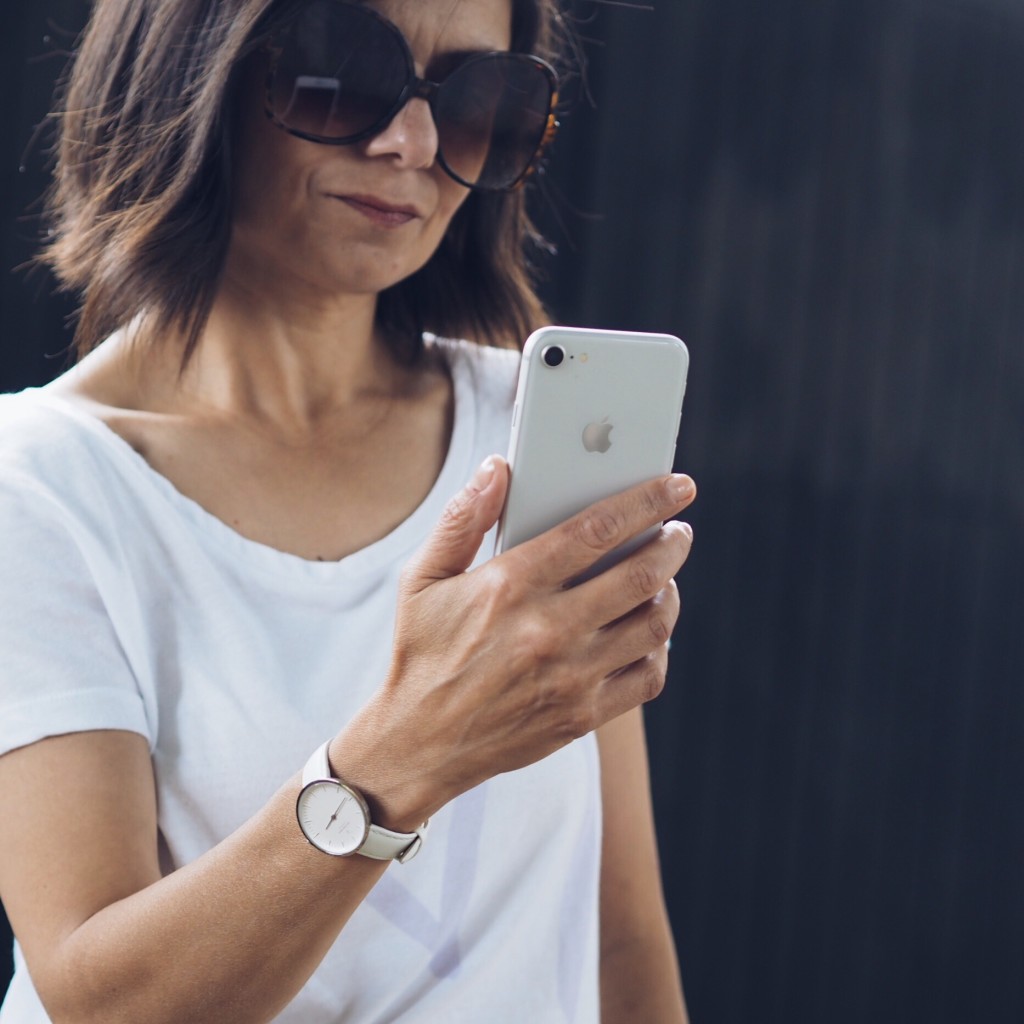 Well, apart from when I've connected my phone to my camera to use it as a remote to pap myself.
#obvs
I was kindly sent the Infinity Watch with White Strap as a gift by Nordgreen, with an additional strap (I chose black leather…) and have a donation to Water for Good.
Although I was sent the watch as a gift, all words and thoughts in this blogpost… are my own.
As always, I'd love to hear from you: which style would you have opted for?
Leave a comment below, and I'll get back to you.
B x
P.S. I swapped my white leather strap over to the black one today – just to test how easy /difficult it is to do:
It's very easy to push the little pin and 'ping' the strap out.
It's pretty straightforward to do the same again to insert alternative strap – though a fraction fiddly, still only took me 30 seconds per side.
Pretty cool, huh?! 
xx