And so it is, that my 46th birthday looms… in less than 2 weeks.
Yup: Forty. Six.
How…?
I feel like my parents… when they used to talk about their age when I was a kid:
'you know in your head that you are forty and you look in the mirror and can see you're forty… but inside of your brain: you don't feel like you are forty…"
Anyway, it's happening: and not just forty, but forty-six!
So I've just gotta go with it… after all, there's no stopping time.
Plus there's always the silver lining in the form of birthday presents of course!
Not that I get masses of them.
But, there are, still, presents.
This week's Sunday 7 is another deviation from the norm in that these are 7 things which I'd like, but aren't necessarily clothing related.
I figured, I list clothing items every week, and seem to treat myself pretty often as it is.  And yes, there are always "things" I want, but with builders due to start work in a couple of weeks in our Threads house (remodelling a bit of upstairs and re-doing the 2 bathrooms), my focus has, naturally shifted a little.
Not completely though – my eye is never completely off the clothing-ball!
Anyway, here are 7 things which I would like to be given, or like to happen (!) or quite simply am in actual real need of…
7.  New Veja Trainers
You can never have too many trainers, right?
So I've had my eye on some canvas Wata Pierre pumps for the summer, but which colour people? Blue (£70)
Or monochrome magic, the black (£70):
Although sadly, in deliberating over colour and waiting for my birthday, both of these colours are now unavailable in my size on most sites (unless I pay more), so it might have to be the Marsala Red (£60) which I have to go for:
I do have an issue with canvas pumps: there's such a short season in which you can wear them here in the UK because the weather conditions have to be: not wet or damp; not too hot, nor too cold… however, regardless of limited wearing opportunities: I still want a pair!
6. Prints
And for a change, I am not talking floral print dresses!
Even before the builders have started work, I am, of course, focusing on the end game.
I should be looking at bathroom and bedroom things: bed frames, toilets, pipes, flushing systems & cisterns, flooring, lights etc etc… but instead, I'm looking at the finishing touches.
That's normal, right?!
I've already treated myself to this stunning Sky Diver print from Nickie Kelly :
And I'm glad I ordered it when I did as it's sold out now… but there are a fair few other prints on Nickie's site I have my eye on, including this Red Lips Print (£14.99):
… and with a 25% discount code running this weekend (use MAY25, ends Monday) – it's a good time to grab a bargain.  I can vouch for swift delivery and great service.
A couple of other prints I'd like to get my mitts on are from Tipperley Hill, including Troy the Monkey (from £15):
Though, the far apart and sad eyes of Damon the Buffalo kind of both melt and break my heart all in one go: so he might just be my favourite:
I love him.
That is all.
But I have also been lusting after this Audrey Rocks print by Kimberly Godfrey… like… forever:
And although this print starts at £17 for the smaller size, I'm after quite a large one (of course!)
And it's not even for my new bedroom or bathroom: eek!
5. Sandals
I am woefully lacking in the sandal department after running a couple of pairs into the ground ( as in, they literally snapped and broke whilst I was wearing them, pounding the pavements of Barcelona last summer.)  Currently swooning over these Cos Leather Strap Sandals (£79)
As well as these Swedish Hasbeens Tutti Fruitti Debutant (£99):
Though I may prefer the simplicity, colour and price of these Lotta from Stockholm low heel Open Toe Clogs (£56)
Does anyone have these clogs?  Are they majorly noisy with their clip-clopping?  I'd love to know please?
4. A new Kettle:
I know!  I must be getting old… I can't help it… I'd love one of these Stelton 'Emma' Kettle's (£139) from Violet and Percy:
So this kettle has very little to do with bathrooms or bedrooms, but… my small town is a (very) hard water area, and we seem to go through rather a lot of kettles.
Our current filter kettle is on its final legs… plus it's pretty standard and a little ugly as well to be honest.  And perhaps spending this much on a fancy looking kettle would be a little pointless, but you know… I'd look after it more, wouldn't I?!
As far as kettles go… it is a thing of beauty!
And whilst we're placing an order for the kettle, a handful of these Playtype Alphabet Mugs (£14) would compliment the kettle nicely, don't you think?
3. Summer Basket Bag
I already have a shopping basket kind of bag, but I'm thinking a smaller, handbag kind of option; I'm finding my Black Jigsaw Mini Lua Bag a little too formal and heavy looking in this summer sunshine and would love a small woven bag.
This Round Woven Wood/Grey bag (£79) has, through instagram, wormed it's way into my heart and mind:
Although I can't imagine it's terribly practical given you open it and it's one big compartment… kind of like a tin:
Rummaging around in your bag with the kids and dog tugging at you & stressing you out… I can imagine having a great many bag spill-outs if I had this particular style, so perhaps a classic cross-body Mini Basket Bag (£62) style would be a better option: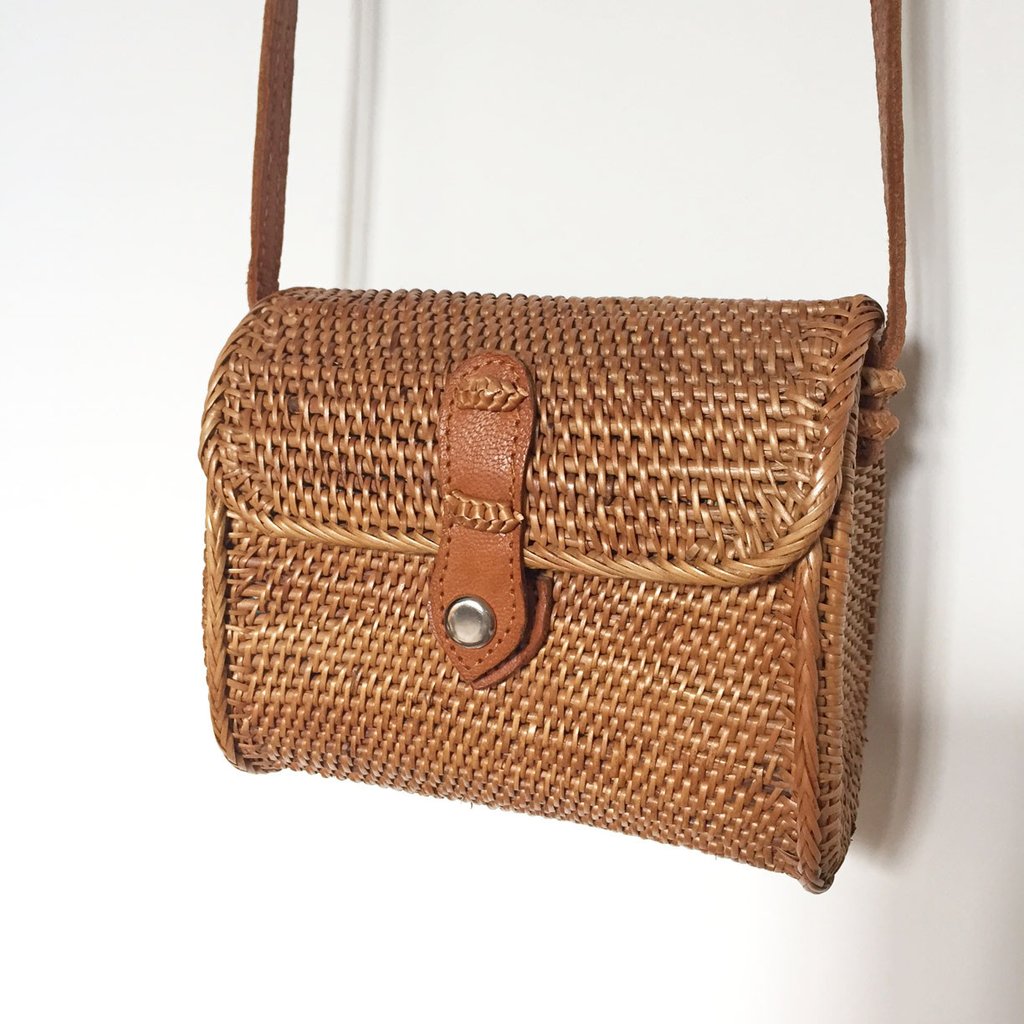 It's a tricky one: go for the bag shape of the moment, round… or, more practical (more contained) classic shape bag?
2. A new lamp…
… for the drinks trolley I'm currently upcycling.
I have my sights firmly set on either this Palm Tree Lamp Base (£90)
or the Cactus Lamp (£95):
The difficulty I have is that I can't just get on with it and order one of these lamps.
My husband splits hairs to the nth degree over Every. Single. Microscopic. Detail: and we squabble about these details like kids.
Worse than kids sometimes.
I can usually bring Mr T round to my way of thinking (eventually…) but sometimes I just don't have the energy to fight over the colour of the grouting or whether or not to hang a picture two inches to the left when it looks better, two inches to the right…
But these lamps? I will be fighting for!
1. Hard Cash
To buy new undies!
I cannot have them bought for me… I *need* to do it myself!
I am woefully lacking in decent underwear… but annoyingly, buying new undies is a real pain in the backside if you're me (excuse the pun).
I'm not gonna get into too much detail about the sizing issues I have (it's a whole other blog post… to follow!) but, back when I was 16, a bog standard M&S five pack of mini's in a size 8 were a firm fav.
Not so much now though.
Even the size 6's end up being all saggy too:
OK these are massive granny pants but you get the idea: not a good look!
And trust me when I tell you that 30 years down the line, and 2 big babies later: it ain't my backside which has shrunk!
I detest both thongs and 'boy-cut' pants – more on that to follow in my 'undies blog post' (you lucky peeps) but til then, let's just say, I'm a full coverage kinda gal!
I'm a big fan of these Bonds Hipster Briefs (£10.50):
I really resent paying £10.50 a pop for these when you can buy a pack of five M&S knicks for £12… but, needs must and all that. Which is pretty pants really!
(OK, OK… I'll never be a comedienne… I'll stop now…)
It's not just pants though… bras!
How extortionate are bras?!
And no, I can't just buy cheapies… when you have a 28 back, your options are limited.
Very limited.
I have been researching options for a blog post coming up next week…
Anyway so, rather sadly, my number one birthday wish for this year is boring old money to spend on rather boring, but very necessary underwear.
BOO!
And so whilst those are my top 7 birthday wish list items for this year… there's no Stinker of the Week today, but safe to say, if you give me a thong for my birthday, I might just strangle you with it.
KIDDING!
No styling up of Wildcard of the Week item either…
But instead, here are 3 random extra birthday 'beany-bonus' wish-list items instead:
Beany-Bonus 1: A new Website
Back in March, when my blog turned 1, I mentioned that I would be getting a spangly, new blog (both the look of, and functionality of my blog), courtesy of my web-developer husband.
But alas, this hasn't happened.
No where near.
He's had a lot of extra work which he took on and which he does around his normal working day… and it's paid work which is paying for extras like our holiday in August, so I can't complain.
However, I'd be lying if I said it isn't a tiny bit frustrating for me… but equally, I also know:
It will of course happen… eventually, but it's just going to have to wait until there's a free slot.
Beany-Bonus 2: 3-legged String Chair (£125, Cox and Cox)
These would work great in the corner of my kitchen where my upcycled drinks trolley will live.
The 3 legs would make one of the chairs sit really nicely in the corner… although ideally, I need one 3 legged chair, and the other, with 4 legs!
There are some cheaper options of these chairs out there which I'm currently exploring (i.e. reading reviews) and so may end up getting one 3 legged and one 4 legged versions of the chair.
A couple of sheepies and cushions: they'll work a treat in my "bar" corner of the kitchen!
And finally:
Beany-Bonus 3: Stella McCartney Collection Sandals with heel (£485)
Slightly obsessed with these, even though… they ain't ever gonna happen:
As well as these never being a reality for me… I can see they'd probably not be everyone's cup of tea.
But I love them.
I've included them in the hope that one of you lovelies may have come across a similar looking 'tribute'?
There's got to be a dupe out there somewhere…? Anyone…??
And that's it from me this week, back to the usual format next week, promise!
It's seems more than a little trite compiling and publishing such a wish-list given the events of this week… but you know, it's normal life.  I think I said the same thing in last year's birthday blog post and the one at Christmas: I have so much, I genuinely don't mind not getting anything… I treat myself pretty often!  Though there's no denying, it is nice to be made a fuss of.
I'll be back with a mid-weeker.  Probably one about underwear!
Til then, enjoy the traffic free half term if you're commuting to work, or the madness at home with children and if you're away for the week… I am totally jealous, but… enjoy!
Thanks for reading,
Bx