… vertical stripes, depending on how you look at it?
I see lines.
In fact, I've been ribbed about this very subject before (as in lines vs stripes) by my friends, as they simply couldn't understand why I saw, and described vertical stripes as lines: but I can't help it – it's just what I see.
Stripes are horizontal, aren't they?  Like a Breton…?  Plus, does it really matter anyway?
My lovely insta-bud Sue did a great post on a 'vertical striped' HM shirt she'd bought… but the best thing about the post for me was it was titled "Parallel Lines" – means I'm not the only one, eh?!
Back to the lines / vertical stripes – they are EVERYWHERE at the mo, aren't they?
And giving the good old horizontal stripes a run for their money (not that any of us will ever be abandoning our Breton's anytime soon!)
I've already dipped my toe with these Next Striped Dungarees (which, yes, are Girls Dungers, I know…  I blogged about that fact here,) but you name it – and it comes in lines.
Vertical Stripes.
Whatever…
So yes, this week, I was struggling to choose just 7 items for this list, with far too much lined loveliness all around, everywhere: so… yep, it's another Sunday 7 deviation! This week, I've put in 2 or 3 items into 8 categories… so it's a bumper-edition of a Sunday 7 if you will.
As per my last deviation from the standard format, there's no space for Stinker of the Week or styling up a Wildcard number. #soz
Does mean the post is a bit longer than usual, so I will try to not prattle on too much; and so, in no particular order, let's crack on:
8. Shorts
How cute are these HM Striped Scalloped Hem Shorts (£24.99)?
If you find the tie waist and scalloped hem too fussy, HM also have these bargain Wide Shorts (£8.99)
When I was younger,  I would immediately dismiss clothing with an elasticated waist; I thought somehow that the elasticated waist screamed 'older woman'…
But you know, now I am am that older woman (as in mature and wise – ha!), and guess what? I couldn't give a tiny rat's @rse about what it does and doesn't scream out to others simply because I do believe there is very much a time and place for an elasticated waist in all our wardrobes!
And finally, I really love these smarter HM High waisted Shorts (£17.99)
I can imagine these won't float every boat, but I can imagine them looking fabulous with some espadrilles and a little tee, don't you think?  Or is that just me?
Had I been doing a Wildcard this week, I think these shorts would have been it.
7. Dresses
This Anita And Green Black Stripe Tie Front Shirt Dress (£24.99) is gorgeous:
And I can confirm, it DOES have pockets!  Bit of a bargain, no?
It's only available in the one length, but I reckon it would probably be an ok length on us shorties…
I can't help but be drawn to the tie-waist style of dress, like this HM V-Neck Dress (£34.99)
This Kimono inspired dress is a style which seems to be most popular with the vertical striped dresses – love the contrasting waist tie of this one.
Or how about a bit more colour? I am *in love* with this Zara Striped Shirt-style Tunic (£29.99)
I do like it when the high street offer up attention to detail and the sleeves on this Zara Tunic instantly elevate it in the style stakes.
6. Skirts:
So the little Paper Bag Tie Waist Skirt from my Sunday 7 last week is back again this week, but the Striped Linen version (£34 from Topshop):
And I've got to hold my hands up on this one, I think I prefer this skirt in vertical stripes to the plain navy one I featured last week: I'm fickle like that.
However, if a mini skirt isn't your thing, how about this rather elegant Black Contrast Stripe Jacquard Midi Skater Skirt (£24.99 from New Look):
I adore this skirt… looks a bit clunky here with the heavy suede black boots; I think it would look better with some 'lighter' ankle boots and pretty much any style and colour of flat shoe you can think of.
And finally, I am rather taken with this HM Seersucker Skirt (£24.99):
This would be the perfect skirt for our British Summer weather… though, as it's from HM, who only ever do one length in their clothing, this skirt would be *very* long on us shorties…
5. Shoes:
Uh-huh: that's right, I said shoes!
Don't believe me?
How about these New Look Wide Fit Black Stripe Floral Embroidered Badge Espadrilles (£18)
How gorgeous are these?  I mean, I'm not the biggest on embroidery, but given these would be on my feet, I think I could handle it.
In fact, New Look seem to have a lot of cute shoes with a stripe, including these Contrast Elastic Slingbacks (£18)
New Look also have some Gucci inspired 'Tape Trainers' which are just £16.99 – in both white and navy – go take a look: very cute for the price.
And finally, HM Knot Detail Trainers are just £24.99 and would instantly freshen up any rolled-up jeans and tee outfit:
4. Shirts / Tops:
Where. to. start?!
So many gorgeous shirts and tops/blouses with lines it's crazy!
I might have had to include 4 here… it's been too hard to narrow down.
Absolutely want this New Look Red Gathered Sleeve Blouse (£17.99):
Though, as much as I love it… these big statement sleeves do pose jacket problems: I mean the sleeves would get scrunched up into your armpits, wouldn't they?
And let's face it… we still need jackets in this country most of the year round… but for that short period when you don't: this top would be perfecto!
So if you the New Look top, but want one without the big sleeves, you may prefer this Warehouse Tie Front Top (£27.99) which I may have featured before (and yes, I am hankering to buy it):
And if it's a more traditional shirt you were after, HM is your shop.
As mentioned at the beginning of the post – Sue found & models a vertical striped shirt beautifully, but others include this Viscose Shirt (currently reduced to £10):
I'm drawn to this one over the many other striped shirts out there as I do love a patch pocket… or in this case – two front patch pockets.  And just £10??
But if you are bored of all the monochrome or standard blue/red & white, there is this Green & white Cotton striped shirt (£17.99) from HM as well:
3. Jackets:
Kicking off with this Blue Linen Mix Stripe Patch Pocket Blazer (Reduced to £12!)
This jacket is only left in Size 8… but if that's your size, lucky you!  Go grab a cute, on trend jacket for a bargain price tag!
Another great buy from New Look is this Navy Pinstripe Jacket (£24)
A different shape now, but another one which would look fab with jeans, or wide leg crops is this Zara Short Striped Jacket (£49.99)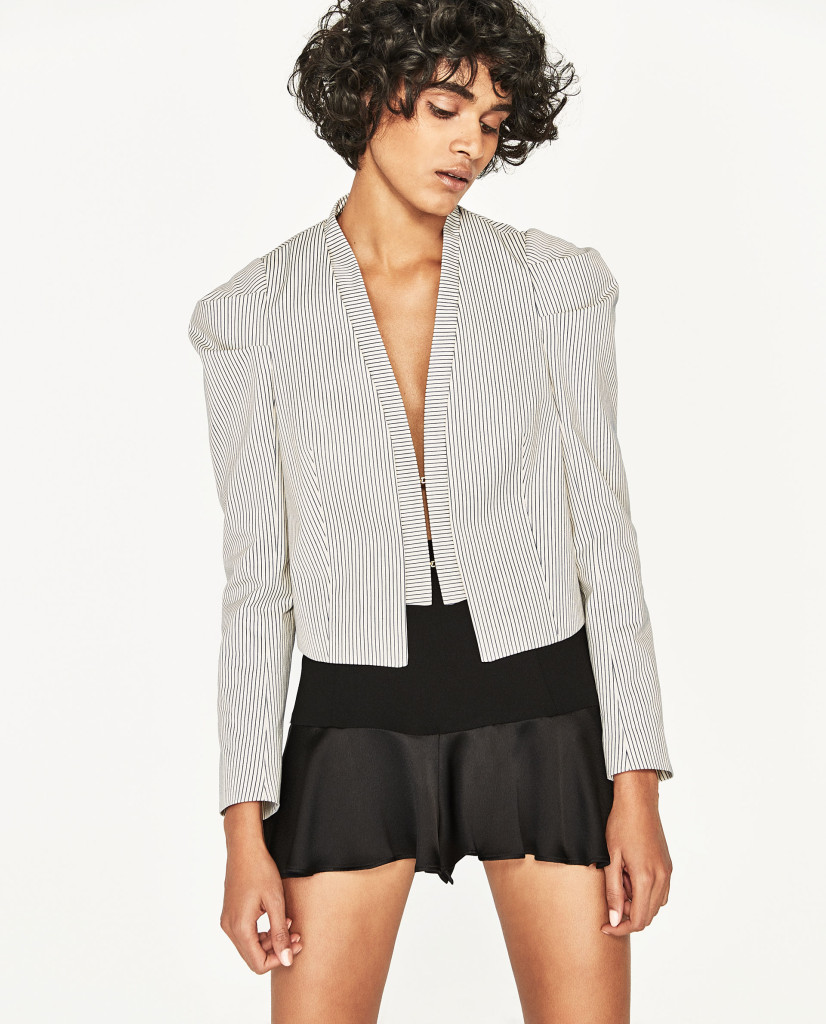 Not sure this photo shows off the versatility of this jacket, but again, it would look great over trousers, as well as a skirt or a maxi dress.
And just because I included the matching shorts earlier, how about this HM Striped Blazer (£39.99)
I'm pretty certain I couldn't carry this sort of colourful striped blazer off.
To me, it's one for the taller ladies.
I love the jacket though… and oh wouldn't it be fabulous to be tall!
2.  Accessories
Oh yes… I did say the vertical stripe is everywhere!
So If you don't fancy wearing lines on your clothing, but do like the look of them… you could just accessorise with a bag?
Having said in a previous blog post that I'm fiercely bag loyal and not a big bag-swapper-over-er…. I'm thinking about buying this little bag for summer simply because my lovely black jigsaw bag isn't particularly summery.
Although this HM Canvas Shopper (£29.99) might be more useful in the long run:
I realise this shopper isn't covered in lines… just a wee band of them, but they're still there!
This Zara Blue Striped Textile Bag (£15.99) is a little more holiday-ish, with beachy-vibes: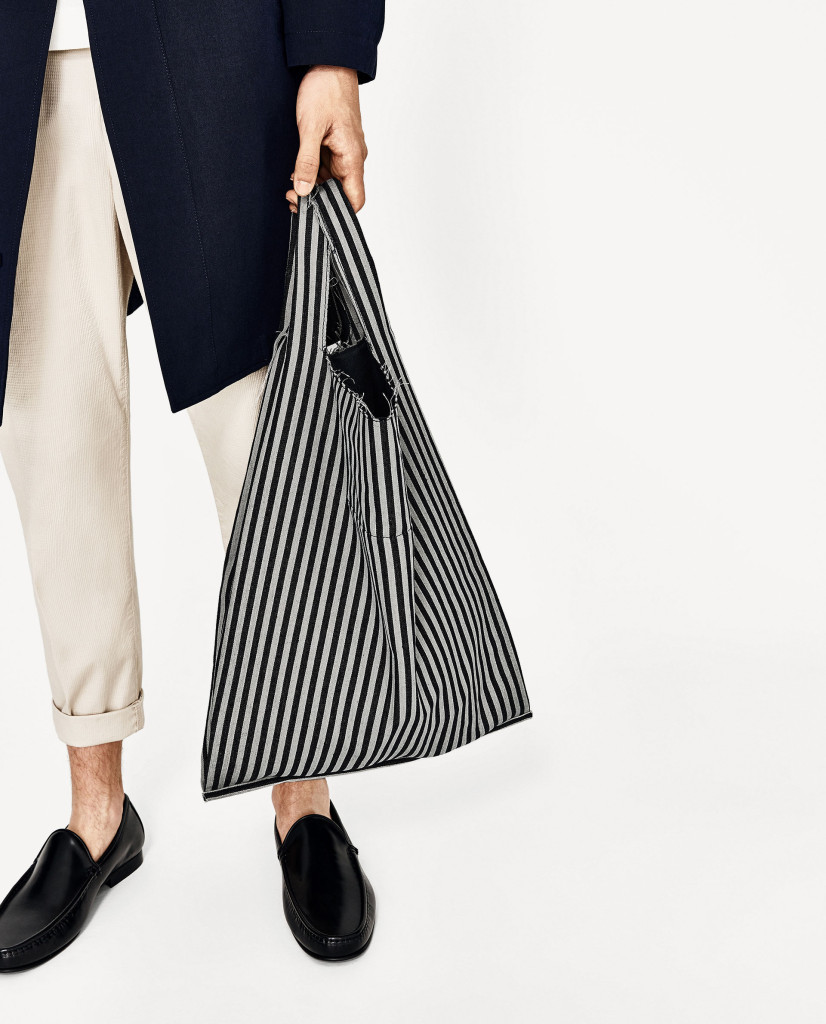 And yes, those are big men's feet and hairy men's legs in the photo!
But I can see me wanting to carry this kind of bag more than I can my husband wanting to!
And it's not just bags… you could accessorise your plainer outfit with a striped scarf?
How lovely does this New Look blue and white necktie (just £3.99!!) look with the yellow?  I'm going to be nipping into town next week just to seek this lovely necktie out.
But if you prefer a longer scarf and a darker colour, this HM Narrow Scarf (£6.99) could be just the ticket:
In fact, for a total of £11, I may well treat myself to both of these scarves.  After all, a simple scarf/necktie can breathe a whole new lease of life into my current wardrobe pieces.
1. Trousers
At the beginning of my post I mentioned that these categories were in no particular order.
Which is true but for my number one category – my favourite item of clothing – trousers!
Back in February, in my first ever Sunday 7, I featured a pair of "Beetlejuice" looking wide-stripe, black and white jeans from Topshop as my wildcard item and styled them up three ways.
Since then, I have seen a great many variations on the "Beetlejuice Trouser", with my favourites being these M&S Autograph Striped Tapered Trousers (£45)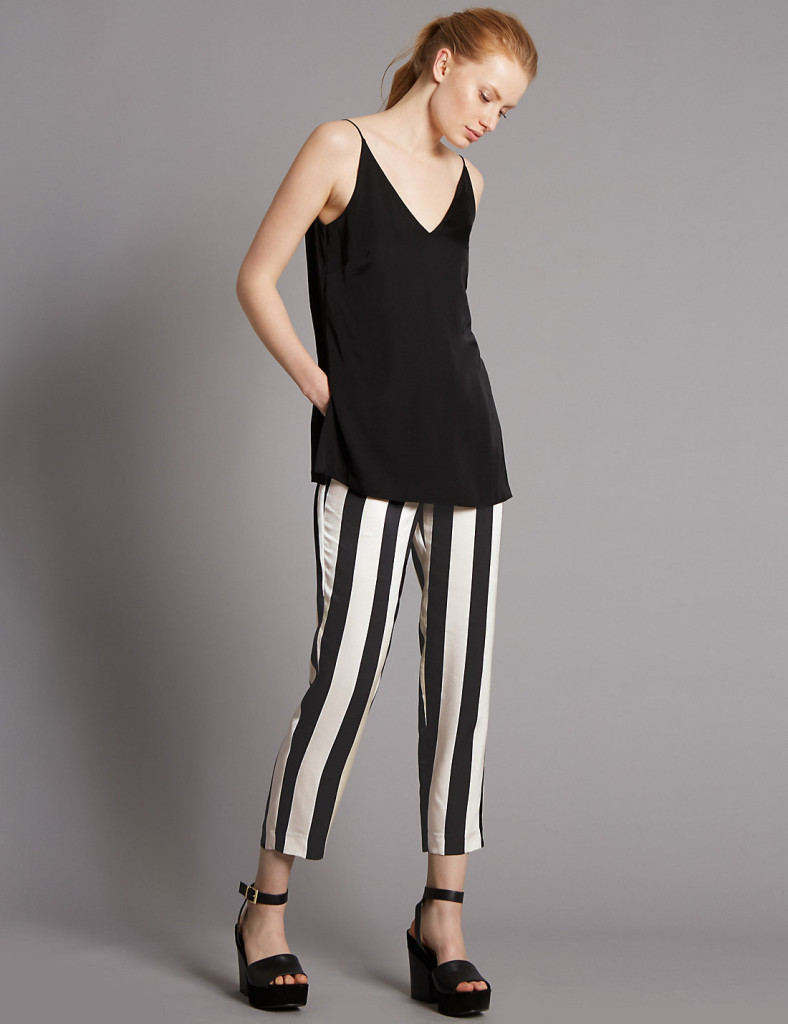 Having torn a strip of M&S last week, and still standing by all I said about their vanity sizing, I'm pretty certain that these trousers would be a total no-no (in terms of over all size) for most of us smaller chicks.
However, they are pretty cool looking, aren't they?
If I'm not selling them to you, take a peek at Fran (The Fashion Lift) rocking a pair; from her review of them she mention's they're cropped on her and that she's not tall… so perhaps I'm wrong about them?!
Moving onto Culottes – these New Look Anita and Green Striped Culottes (£24.99)
These culottes a right up my street.
A little black tee, black jacket and white sneaks: my perfect outfit.
If you wanted something with more summery, beachy vibes, these Topshop Striped Crops (£39) meet the brief perfectly:
Currently, Topshop do not have these in petites.
However, they'd look pretty great as full length as well, or you could simply take them up?
And for a dressed down, pyjama kind of vibe, I can totally see myself in these HM Cotton Joggers (£24.99) with a pair or flip-flops and a tee, mooching around my Campsite "Glamping" holiday in the South of France this August:
These joggers would be worn pretty much every evening on my 2 week Glamping holiday in Perpignan: they're cotton so will be cool; they've got an elasticated waist – perfect for holiday over-indulgence and they'd hopefully provide a little protection from the mosi's.
And, once home… they'd work pretty well as 'lounge-pants'.
All for just £24.99!
Yep… I've just sold them to myself!
Another one on the list for my little shopping trip next week.
So that's it for my bumper-edition of the Vertical Striped bonanza of a Sunday 7.
And I know I said no Wildcard or Stinker of the week, but… if I had done a Stinker of the week, it might have been these:
These New Look Blue Stripe Cut Out Trousers (£17.99) get a no from me.
However, if you are off to a Full Moon Party in Koh Phangan or an all nighter in Ibiza… then go for your life!
I'm aware that I've totally neglected the Playsuit/Jumpsuit category… but I may have given myself a line-induced headache: there is, after all, too much of a good thing!
Would love to hear if "lines" are your thing? Or, are you more of a plain outfit and simple striped accessory kind of gal?
I can't wait to wear my striped dungarees… apparently the weather is picking up next week, so I might get to do just that.  We can but hope, eh?!
Thanks for reading – back with a review of a couple of pieces mid-week.
Bx