Hello!
It's been a week where I've felt somewhat lost… I've been running around like a headless chook with "renovations errands" and at home, with up to 8 workmen busy doing their thing in pretty much every room, I've not really been able to call home "home" during the day.
So I have literally been on the move all week, from pillar to post, all over the place!
Which is where my mind-set's been at as well: and I think you might notice this in my rather random picks this week…
7. Topshop –  Faux Fur Coat (£79)
I saw this little faux fur jacket in my local Topshop, but just haven't have the time to try it.
It's just gorgeous… such a lovely shade of 'nude' pink… which unfortunately, happens to be a colour which kind of washes me out unless I go all out with the make-up (which I would consider doing if wearing this!).
As with most (though not *all*) Topshop items, this is available in all of the ranges: Petites, Regular and Tall… always a bonus, and if this colour isn't grabbling you, how about the Grey?
I'd like both please.
6. Veja – Esplar 3 Lock White with Glitter (€110)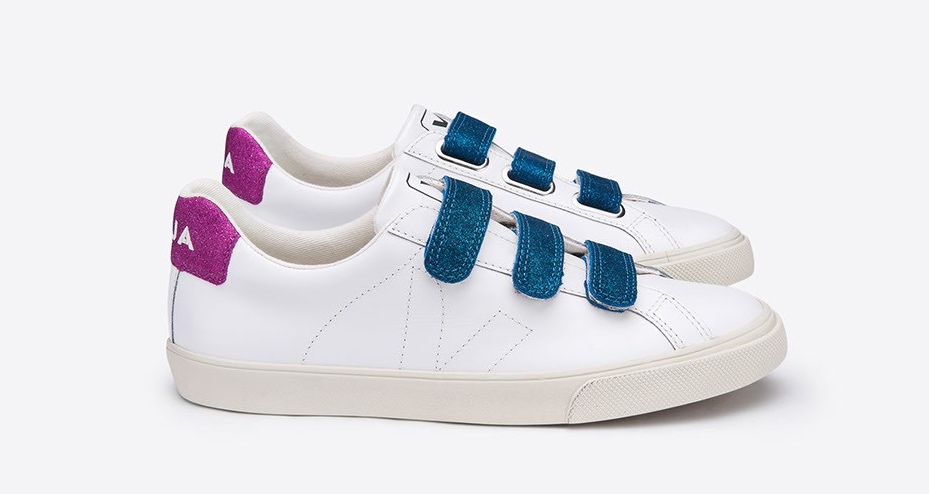 I've blogged about Veja & their fabulous 'feel good feet' enviro credentials before.
I have two pairs, but neither have glitter on them you see, and for a magpie like me, these here trainers are simply too tempting!
Plus who doesn't love velcro for extra ease.
Or is that just lazy old me?!
5. Seven Boot Lane – Grace Bordeaux (£150)
Every Friday, I post a #fridayfeet "shoefie" on my instagram feed (and on the very, very slim off chance you don't know what a shoefie is, it's a photo of my feet & what shoes I happen to be wearing!).
Anyway… lots of my gorgeous, stylish, lovely Insta-buddies have been tagging me on Friday's with their #fridayfeet, which has been amazing… and I can't help but notice that there's a LOT of love for Seven Boot Lane boots all over my friday hashtag, all over insta… they are touted by many as being mega, mega comfortable too.
Now if you've been following my blog for a while, you'll know I have a poorly knees (aka my granny knees) – which in turn means I have issues with heels.
However… others in a similar boat have said that they don't find the heel on these boots a problem as the boots are so comfortable.
SO… I'm thinking, comfortable heel + a much needed couple of extra inches for titchy me = win-win?
4. Ganni – Julliar Mohair Pullover (£335)
I know.
It's £335.
It's Never. Going. To. Happen.
Not only that (as in the price), it's only available in Large as all other sizes are sold out.
BUT… where there's a will, there's a way.
My mum happens to be a knitting genius.
I've shown her the pics and she's on it.
I feel immensely guilty about asking her to knit me a sweater, she's in her middle 70s and really rather weary at the moment (health wise).
But… we've got a date to go wool shopping next week; she said she no longer knits sweaters in one week flat… but she'd like to knit it for me for Christmas.
Keeping my fingers crossed!
3. Zara – Printed T-shirt with Appliqués (£15.99)
Slogan AND a dinosaur on a t-shirt?
Hell yeah!
As a MOB-ster (mother of boys!) my two would be totally made up with their mama wearing this tee.
Plus Dino prints aren't just for boys (as those fab coach sweaters from last year have proven!)
Only down side is the "ecru" colour would make me look pretty washed out.
BUT, again, where there's a will and all that…
This looks like a slouchy-fit tee, and the smallest size is a 'S' (that's right: no size xs )… so I figure I could wear it over a turtle neck heat-tech or something?
What do you think??
2. Zara – Faux Leather Mini Skirt (£19.99)
I love the little gathered waist.
I'm a sucker for poppers.
AND there are pockets people!
Plus, sometimes, the beauty of being a short-arse is that mini-skirts aren't that mini on me: which is perfect!
If you're not sold on a mustard yellow pleather skirt, go take a look at Terri's Instagram (@thestylecoop) feed… she was rocking a yellow mini earlier this week: loved it!
1. The Outnet – J Brand Selena Crop Kick Flare Cords (£87.50)
Why am I linking to a pair of sold out cords?
And why am I buying £87.50 cords when I flat, cold, stoney broke?
Well, there's a story behind this one… here's a wee mini-blog-post, inside of a bigger blog post:
I've been sitting on a £50 voucher for the Outnet for sometime, but as you'd probably guess £50 doesn't go *that* far on the outnet; plus I wanted to spend it wisely.
Anyway, I ordered these J Brand cords, which cost me £37 + my voucher.
I ordered 3 pairs though… sizes 23, 24 and 25.
Basically, any time I see that sizes go *RIGHT* down to a 23, my red flag goes up in a "vanity sizing alert" kind of way.
Anyway, for reference, I'm usually a 25/26.
In these J Brand cords, the 23 turned out to be the perfect fit.
However,  I often find high cotton content jeans & cords shrink up a teeny, tiny fraction… and there was no room for shrinkage in the 23.
Plus the inside leg of the size 24 was a whole inch shorter and a better length on me, although they sit on/just above the ankle bone and are not cropped on me like they are on the model.
I will be returning the size 23 & 25 if you're interested? Keep an eye out!
AND, for those thinking – this is pretty useless – if they're all but sold out: take a look at the J Brand Selena Jeans of which there's a fair selection; having tried the cords, I'd be happy to buy a pair of jeans in this cut.
Even better, according to my good Insta-pal Susie So So, she's already found us a high-street, more affordable version from Topshop.  Check out her thought's on her lovely Friday Five feature over on her blog.
Back to my cords… I wore them on Friday & today, but haven't managed to photograph a full length photo yet… will post one up as soon as I do though, til then, this is the only one I have:
This was Friday's ensemble… a super busy all over the place day which I think is reflected in my all over the place outfit!
So… that's my 7 this week.
And instead of my usual Stinker and Wildcard of the Week, because I've been flat out at home AND because I've had a weekend away, including a heavy Saturday night, … I'm bailing out on these two this week and giving you two little extra things I just quite fancy instead:
Fancy No. 1: Other Stories – Wool & Mohair Long Green Tweed Coat (£165)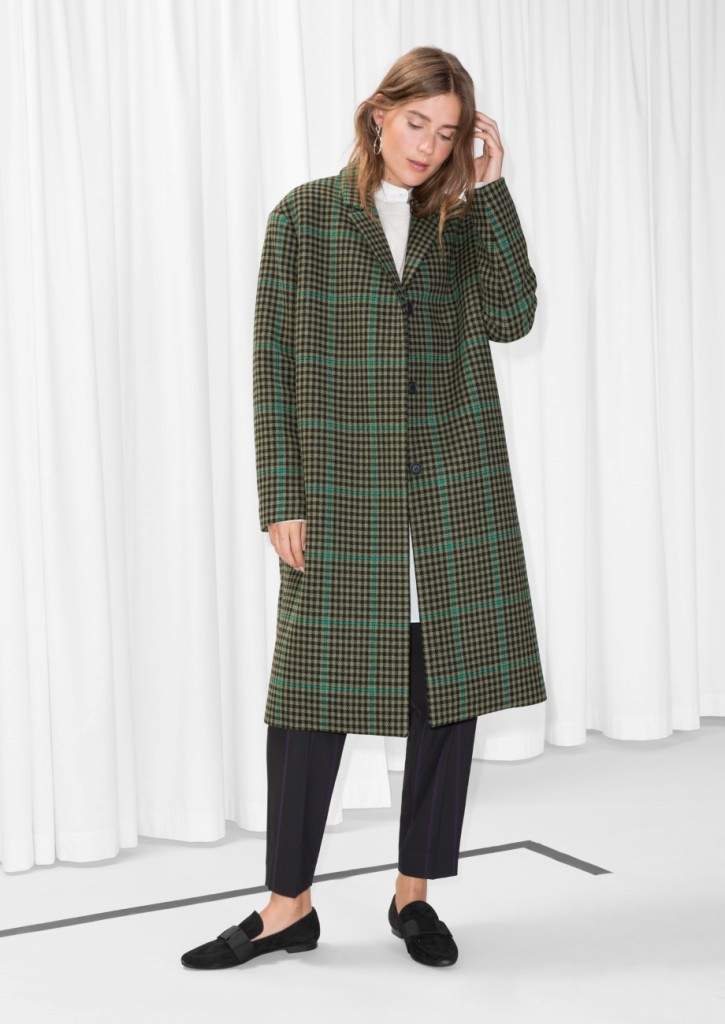 It's not really my colour.
It's not my shape.
I'd resemble a child wearing her grandpa's coat…
But, this is just a 'fancy' of mine; you know the sort of thing: if I were a real grown up woman then I might buy a coat like this!
If I had the height of course…and some shoulders!
Fancy No.2: Isabel Marant – Rilows Point-toe Leather Ankle Boots (£335)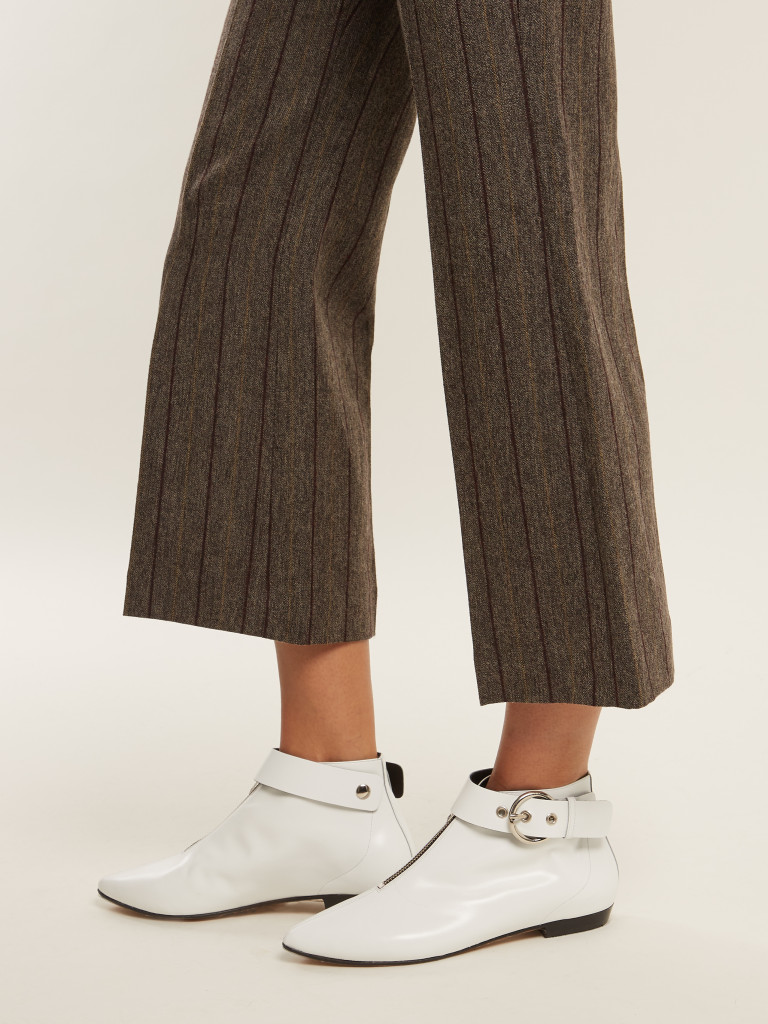 I think perhaps by now you've realised that I've been torturing my skint-self this week.
Always seem to be browsing unaffordable items when things are this tight.  Anyone else, or just me?
Like the Ganni jumper – I can't have these boots.
But unlike the Ganni jumpers, my mum can't make me these boots (she could probably knit me a pair – wouldn't that be funny!)
So possibly a January sales purchase?
Then again possibly not.
I'm so fickle, I'll have moved on by then.
Probably.
But at the moment, I happen to think the little white pixieish boots are just delicious!
I know they're a bit Austin Powers… but look at them with the Cropped Trousers (a mere snip at £415): they look fantastic!
Right, I'm getting back to that sofa and hoping to watch a movie which I can fall asleep to… can't believe I feel *this* rotten after a night out and like always, thinking "never again"… at least, not until the next time!
Would love to hear your thoughts on my random selection this week: leave me a comment?
Thanks for reading.
Bx