So, I turn 45 in just under a week.
I'll leave that thought hanging there, as although I'm not especially bothered by the actual number, I guess I can't believe that I'm so into my forties: yes I'm a walking mid-life cliché!
Where did all that time go?
I've never been one to make a fuss about my birthday, and although I've compiled this 'wish list', in many ways it will remain just that: a wish list.
There are only 2 people who really buy me presents, my husband & my sister.   The latter has already asked me what I want and because I know her budget & requested a specific item… really, you might say that this list is for one person only… !
That said, I am far too sensible and aware of our family needs – things like our 2 (tiny) bathrooms & downstairs loo here in our home are in desperate need of an update; and our garden!  It may well be a teeny postage stamp sized garden but its the sort of space we'd have committed serious crimes to have in London… sadly, about a 1/4 of the space is taken up by a colossal shed, yada-yada-yada…
So with all of that in mind, these are simply a few things I currently have my eye on:
Bags:
I've been following & reading fashion blogs since last September which is a relatively short time, I know; shorter still is the time I've blogged myself and joined social media and in doing so, I've opened up a Pandora's box of things I just seem to want-want-want… things that are way out of budget, things that may or may not suit me & my lifestyle… just stuff I cannot help but… want!
There are plenty of lovely ladies sporting the gorgeous Gucci Disco Bag in red, which I became fixated on for a brief time: next bag-obsession was the APC Half Moon Bag in black, after seeing it on Honey Belle World's blog.
But it's this RSVP Paris bag which has won my heart: I first came across it on kaffeeundtee's Instagram feed which is all about the 'simple'.
And the bag? I have not been able to get it out of my mind:
LOVE, love, love it.
There isn't a single, simple, detail about this bag that I don't love:
its a great size;
available in lots of colours,
the gold hardware,
that it not only comes in my favourite colour of navy blue, but its a beautiful grained leather to boot and of course
the detachable strap so that it can be used as a clutch.
The price tag of this little piece of bag heaven is £340, so I guess it's going to fall into the 'dream-on' category.
And so, given I'm not a big bag swapper-over-er on a day-to-day basis: that's pretty much it on the bag front.
Although… Aurora London's Willow Bag is available in many colours and could be a more affordable option:
And although it may lack the details of the RSVP Paris bag which have my heart, it more than makes up for in the £64.50 price tag; for a further £22, there is an option to get your initials embossed onto the Willow Bag, which I like the thought of a lot.
In fact, as I write this, I may be coming round to Aurora's Willow more given its versatility and everyday usefulness.
Hmmm….
Footwear
Where to start? I've already posted about blingy-metallic-block-heels  and #boxfresh sneakers in previous posts, but a girl can never have too many shoes, right?
So, although the Gucci Marmont's are a slight obsession, here are a few others I like the look of, starting with these Adidas Adiltette Slides (£22), perfect for beach/poolside summer holiday:
I'm a bit miffed that most of the ladies adidas start from size 37, which means they'd be too big for me & so although I should be happy that I can buy cheaper from kids ranges, I haven't come across these slides in a 36 that are in stock… yet.
Moving on to the Topshop Karter Loafers in 'yellow' gold which are sold out in the gold colour, they are still available in metallic pink, black and white.  They are the best highstreet version of Gucci's loafer but at a fraction of the price (£66):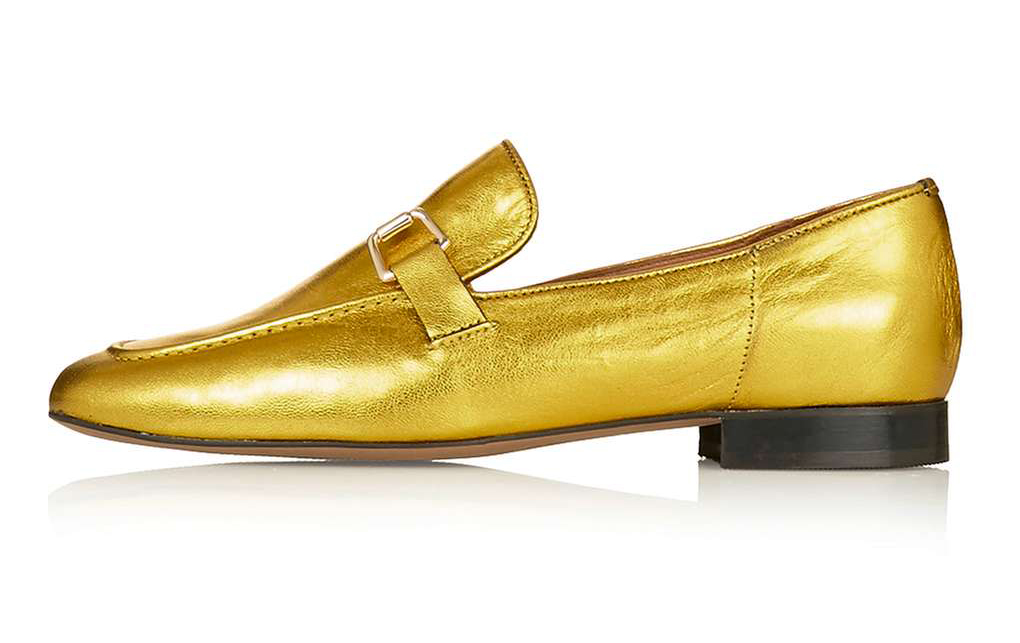 If they are sold out in the gold, why am I even talking about them?  Well, I *might* have got my mitts on a pair the other day.
It was fate you see: they were out of stock in every size apart from 'very low stock' in… would you believe it?  Size 36 – my size.
I've received the parcel but I've been very good and haven't opened it yet.
Partly because I wanted to film it for a 'Big Unwrap' for the blog but partly because I've read that these come up big so I"m delaying bursting my bubble…
Staying with Topshop's footwear, I do love a good looking ankle boot, and come Autumn/Winter, its pretty much all I wear. I love the look of these Topshop Apple Bee ankle boots:
With my granny knees & mum duties in mind the flat heel is perfect; I'm liking what appears to be a not too pointy a almond toe.  I haven't had a black ankle boot in eons, so after five years of non-stop tan or chocolate brown ankle boots these would be just the ticket.
Although they also happen to come in a gorgeous Bordeaux burgundy colour too.  And at £62 pair, and apparently real leather, really I ought to be asking for both pairs, don't you think?!
That said I have also been obsessed with these past season Isabel Marant Patsha pony skin ankle boots, which, yes, of course are all long gone:
Never one to get down by a sold-out sign, I've been on the hunt on eBay etc and honestly?  Didn't get anywhere.
And then, up they popped on my instagram feed from Edit Second Hand – just the one pair, in size 36 at £140.
Fate again, surely?
From what I understand, these boots come up small, so without trying them first, I feel a little cautious about ordering them and, as ever, other purchases seem to get in the way.  Plus I really feel as though a Marc Jacobs Playsuit I bought from Vestaire Collective for an event (which didn't arrive in time) needs to get sold first.
One of those weird justifications I have in my own mind; completely ridiculous?  Well, yes.  That's me all over!
 The Pleated Skirt
Anyone from Instagram who may be reading this has no doubt just groaned.
But, but… I've been on the hunt for a 'perfect' midi-length pleated skirt for pretty much 3 years now, and although I've given up on this as a style that perhaps doesn't suit me… as well as the near impossible task of finding one that's the right length on a shortie like me… I may have ordered this Topshop Petites Pleated Skirt:
Have to say, I'm not holding out much hope as the reviews aren't brilliant, however, thought I'd give it one last go.
Watch this space!
Dresses
Whilst admittedly, I'm not the biggest wearer of dresses, I do love a good looking dress.
And ordinarily, I'd say I'm not the biggest shopper of high-summer dresses given we're lucky to have 10 days of really good summer-dress weather in the UK per year.
However, this summer, I'll be spending a month in Spain during a super hot time of year, and I have *nothing* in the way of summer dresses in my wardrobe that isn't very, very, very old and tatty.
Unfortunately, the dresses I have fallen for are *way* out of my budget, though I have convinced myself that I would wear them to *death* during my month in Spain, and so cost per wear would become negligble.
Going to start with my favourite: the Amal maxi Dress, by Dodo Bar Or:
Luckily for Mr T's bank balance, this £355 dress is sold out everywhere in my size.
I love it.  The colour, the print and not to mention the perfect wider (than spaghetti) straps which allow for a proper bra to be worn underneath (given I've never got on with strapless & the like).
I also know it would have been waaaaay too long on me; however, the tiered style of the dress would have lent itself well to being altered.
I haven't seen anything similar on the high street and am going to put it out there now: if you have, please let me know!!
Other dresses I love, though perhaps not as in love with as the Dodo Bar one, are this gorgeous Temperley dress:
So pretty! It costs crazy money (for me) so I won't be getting it anytime soon, but it'd be perfect for an evening stroll in Barcelona, don't you think? *sigh*
And lastly, this BCBG Milana Tunic dress would be just the ticket for an evening, when you get that post-all-day-in-the-sun-chill, when I'm further up the coast in the Costa Brava:
I need some emojis to express the love!
Jackets & Tops
There is a leather biker jacket hole in my wardrobe and although I have come tantalisingly close to making a purchase, the sleeve length being too long has always stopped me.  If you're going to spend £150 on a jacket, it should be just right, shouldn't it?
Most of the jackets I've lusted after and indeed even tried on have been a good fit, but for the sleeves.  And, with a zip detail on the sleeve (usually) any alterations would be very complicated and add too much to the original cost of the jacket.
Until that is… I found this Topshop Petites Biker Jacket:
I've actually tried it on and it really is a perfect fit on me.
£165 is a pretty steep price tag for me, however its a timeless piece which would work hard for me during both Autumn and Spring.  Oh, and indeed our British Summer!!
Moving on to tops, I need to stock up on some basics and have my eye on a plain white t:  Yunion-T tee-shirts have been given great reviews by Michelle over on My Fashionable 40s:
Unfortunately, at £45 a pop, I'm not sure I could afford to stock up on more than one!
I've had more than a little love for this Warehouse Dandelion Pintuck Blouse for quite some time now, and its currently reduced to £20:
At that price – it was the prefect suggestion as a birthday gift from my sister.  I look forward to receiving it!
Still on Warehouse, I've been lusting after this lovely Broderie Lace Top for a lifetime as well:
So this one is reduced to half price as well (£25) and may well have sneaked into my recent Warehouse (culottes) order.  The sleeves are a little long on me (of course!) but I'm thinking on it…
Jewellery
I have never been a massive jewellery wearer, but that doesn't mean I won't wear it at all, and that I don't want any!
Again, through Instagram, I have stumbled upon a few bits and pieces which I simply adore, starting with this Cabbage White Necklace:
With jewellery, its just one of those things – so personal, and for inexplicable reasons, this necklace has been screaming out to me.
And then an amazing thing happened this week: I entered the Cabbage White England 'giveaway' competition on Instagram & won one!
I'm so thrilled and can't wait to receive it and wear it!  I liked the version of this necklace with each X in a different finish: silver, gold & rose gold… I've still included the necklace here in my wish list because I won the necklace *after* I started writing this post.
I feel pretty lucky already: thank you Cabbage White England!
Now, not to bore you too much about Instagram, but since joining 3 months ago, there are designers and enterprises which I've become aware of which I probably otherwise wouldn't have known about.
Black & Sigi's handmade jewellery is an example.  I first came across them on The Fashion Lift's blog, so on joining Instagram followed their feed.
There are a couple of items I've been eyeing up including this Juno Hair Comb:
Think I'm edging toward the gold, rather than silver for this one.
Staying with their Juno collection, I love this bangle in gold & silver:
As well as this very pretty pink rose quartz bangle:
Love, love, love the Black & Sigi jewellery. I'd be here all day if I started posting pics of the rings, necklaces…. definitely worth a peek if you're after something a little bit different.
Other Stuff I want
I could go on forever with my wardrobe wish list, there are so many gaps which need filling, but I think that's probably enough for now.
There are also other 'things'  which I just want, that I'd like to have or to do…
For example, I'd love to have some Botox to rid myself of my perma-frown.  But if I did get this as a present, I might be disappointed too, as its not a real, actual item I can hold or wear or use and I'm pretty fickle like that. *eek*
I'm loving these Trouva Cactus vases:
A cactus shaped vase into which you can put flowers: what's not to love?
And since following Cowboy Kate on Instagram, I've become more than a little obsessed with the gorgeous rare breed sheepskins she sells.  I dropped her a line on Instagram & she kindly emailed through some images for me to post:
I want a grey sheepie for my sofa so badly!!
And finally, finally, a bit of tech: I'd love an Olympus Pen:
Because, you know – having one of these cameras would instantly turn me into a better photographer, right?
If only!  I think I'd need a tripod and some lights and probably a one-to-one week long workshop with Marlene from Chocolate, Cookies and Candies before I got to grips with it!
Oh well, a girl can but dream, right?
How about you, did any of my wish list take your fancy? What's on your list?
As ever, would love to hear from you. Xx